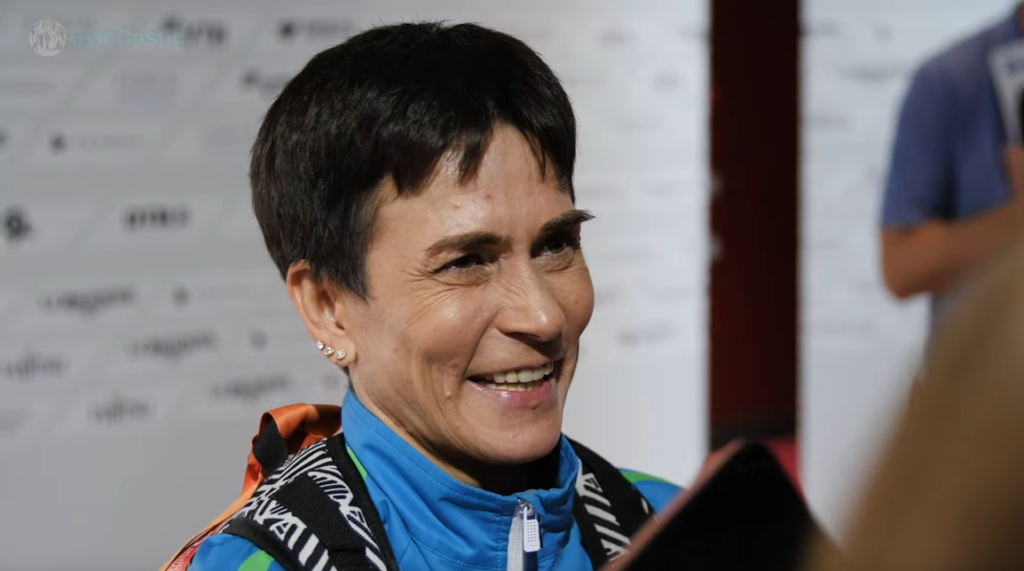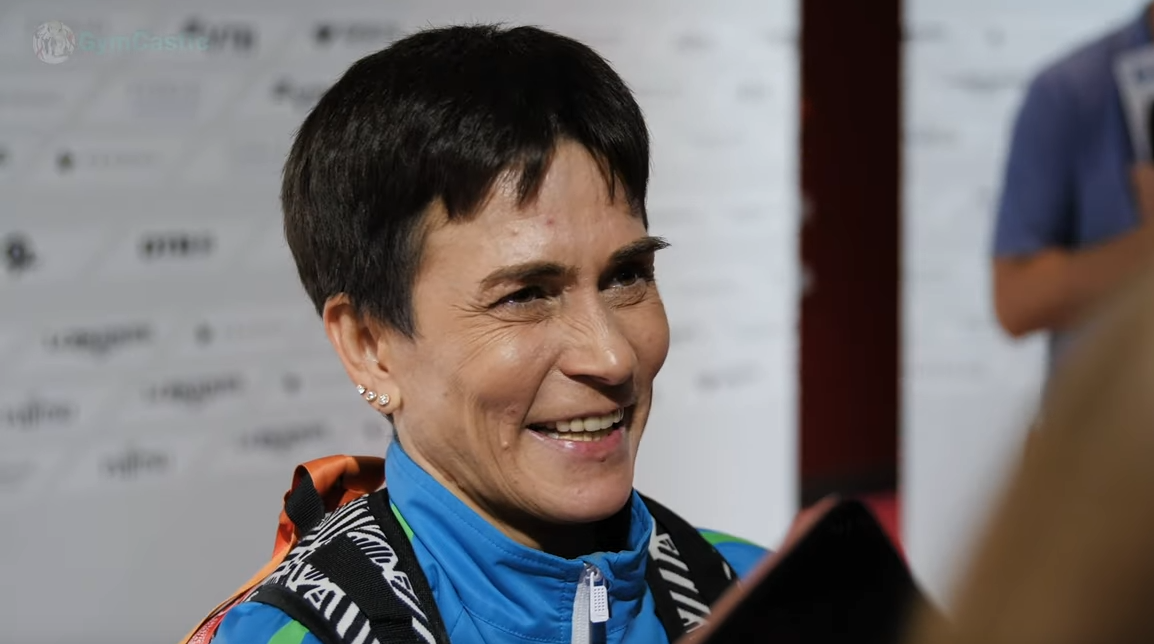 LISTEN HERE

This episode has been commissioned by Club Gym Nerd member Britt, who asked for an episode all about the career of Oksana Chusovitina, saying, "I wanted to wait until she retired, but who knows when she will ever actually retire." Correct. As we have established, she's not allowed.
Part 1 – What Is It About Chuso?

Jessica takes us on a scenic tour of Chuso's life (and also the history of the internet?), from her start in Uzbekistan, to her time with the Unified Team, to her marriage and her son's illness, to the Germany years, and full circle back to Uzbekistan again. There will be some feelings.
Chuso's longevity by the numbers — 7 Olympics, 17 world championships, and 13 combined medals. Plus, Spencer searches through the archives to find the first instance of a commentator being surprised that Chuso is still competing.

Part 2 – The Big Fat Chuso Quiz
Part 3 – The Early Years

Chuso's successful junior career, her major international debut in 1990, and the fortuitous (for her) circumstances that leg to her breakout performance at the 1991 world championships and making the 1992 Olympic team.

Part 4 – Eponymous Skills

Chusovitina has 5 eponymous skills in the code of points across three events. We break down each one and discuss other skills Chuso could have had named after herself—as well as whose skills died so that Chuso could live
Jessica doesn't care for the code's treatment of full-out elements or twisting pike elements, both of which have personally victimized Oksana Chusovitina

Part Feelings – Pause for Love Story

Jessica tricks Spencer into talking about love things or whatever by turning it into a test

Part 5 – The Germany Years

Chuso enjoyed the best all-around finishes of her career while competing for Germany in the mid-late 2000s. We discuss reasons, both mental and technical. And also the Jean Shorts Exhibition.

Part 6 – Chuso By Event

Chuso's constancy on vault — except for the Prod years. Because everyone makes mistakes
No-grips bars, and how she made it work for herself in 2008
Chuso's best beam era came in her 30s, and what if she could do a routine of all punch fronts
Our favorite Chuso floor – the split-leg DLO to punch front from 2002.
FURTHER READING
SUPPORT THE SHOW
RELATED EPISODES
MORE WAYS TO LISTEN