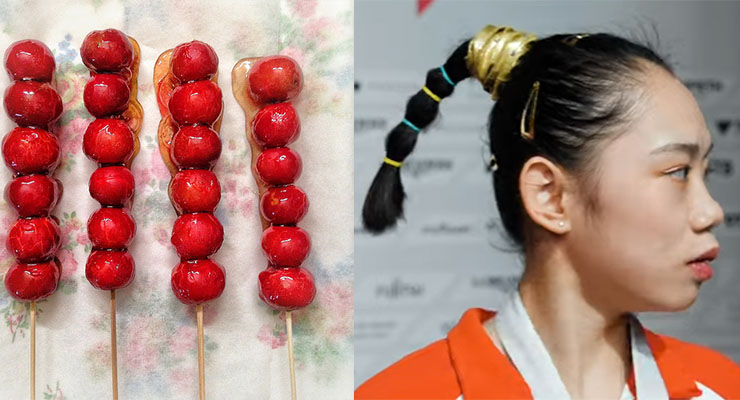 LISTEN HERE
BACK FROM WORLDS
Everything we still want to talk about from worlds! Because there was so much!
But first, Club Gym Nerd members be sure to listen to our special behind the scenes episode  just for Club Gym Nerd members with photo gallery (Login or join here) about what happened in Stuttgart, including tales of the woman who tried to move in on Jessica's husband.
The stuff of gymnastics lore for decades to come

Tang Xijing goes from missing the all-around final entirely to winning the silver medal. We speculate on theoretical fluff pieces about this dramatic feat.

Team Italy qualified for the team final by only .034 before its run to the bronze medal, and it was unsung hero Elisa Iorio who delivered the critical beam routine.

Roxana Popa's qualification floor routine and the best triple Y spin ever done. 

Tyson Bill making the high bar final and getting an Olympic spot!

Noah Kuavita's triple back pike from high bar.

Tingting's street snack (Tanghulu) hair and Chen Yile's "the birds that are angry…angry birds!" pig on Sun Wei's arm bands.

Arthur Nory married his gold medal and tossed the bouquet to the Brazilian delegation.

Floor pandering, and what we're going to do about it (NOTHING!) 
GYMTERNET NEWS
Laurie Hernandez did a little tweet about going to camp, so Spencer and Jessica run with that and proceed to plan her whole life. NBD. 

Mihai is done in Australia. Thoughts on his tenure and what Australia should do from here.

The affair of Danusia Francis, Twitter, and trans athletes. We discuss, and hopefully dispel some myths.

Elsa Garcia and coach Eric Demay, with a look back at Eric Demay's dismissal from the Swiss team over a decade ago.   

The national anthem salute controversy at worlds that apparently existed.

SKILLS: Fusuke Maeda's triple back over the high bar, and Konnor McClain's LOSO + back full.
Dumpster Fire 1, Dumpster Fire 2, and Dumpster Fires 3 through 456.
Plus: A Bart of many talents, Ana Padurariu's college plans, Chuso pretending she's allowed to retire, MyKayla Skinner's wedding, Simone's first pitch, Nina getting only what she deserves, upcoming gymnastics books, Jessica's obsession with self-driving cars and how it (doesn't) relate to gymnastics, and more.
MEET NEWS
Spencer's Olympic Corner: Counting down to the Olympics, where we stand with qualification after worlds, who still needs to qualify, and what upcoming paths they're going to take.
Fun Meet Season: Mixed pairs meets where you get to

gallivant around central Europe and do only some of the events and compete as teams and can dismount with a flyaway if you want.

US Nationals dates have been announced for 2020. The Olympic season is beginning to come into focus!
SUPPORT THE SHOW
RELATED EPISODES
MORE WAYS TO LISTEN