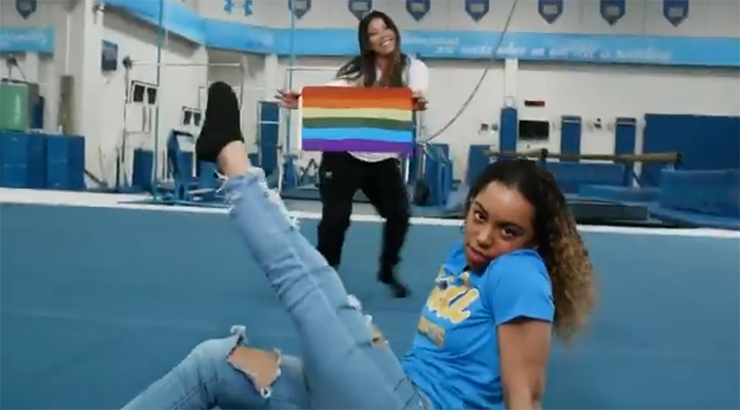 LISTEN HERE
This week, we open with rage (TV network-type), then switch to rage (dumpster fire-type), and go on to rage (Achilles injury-type), but then comes the fun part—Ellie Black's return and a brand new sass-filled Olympic year segment.
UCLA's amazing Pride meet was the gayest thing ever to happen in gymnastics, and the Pac-12 Network pretended it didn't exist

An SEC Network basketball commentator did a very very (very) bad one

Following up on the Maggie Haney suspension and the Denis Abliazin racism

A doctor is suing the USOPC for whistleblower retaliation

Asuka Teramoto is out with a torn Achilles and nothing matters anymore

Four-Year Headlines: Where we issue yellow cards to drive-by gymnastics coverage

Olympic qualifier roster updates

Sorting through what happened with rhythmic star Aleksandra Soldatova

Elite Canada – Ellie Black is back, Shallon Olsen is a superhero, and we fangirl over Brooklyn Moors and Ana Padurariu exactly as much as usual

NCAA News – Trinity Thomas and Maddie Karr got 10s, Hailey Poland wore blue lipstick, and we got some feedback about cat leaps
FURTHER READING
SUPPORT THE SHOW
Join Club Gym Nerd here for access to special Behind the Scenes episodes!

Buy our awesome clothing and gifts here.
RELATED EPISODES
MORE WAYS TO LISTEN