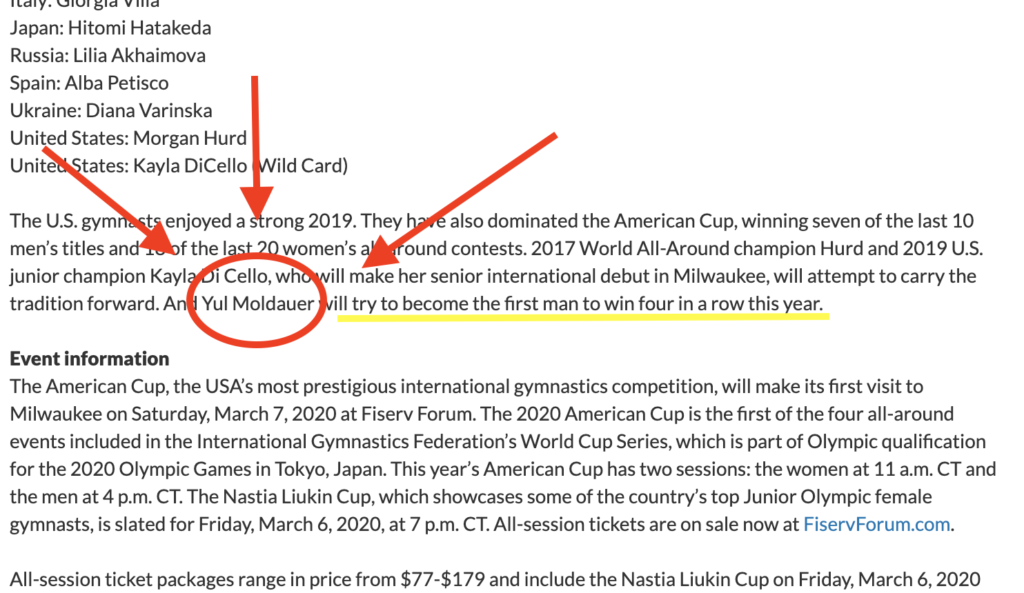 LISTEN HERE
MEN'S PROGRAM OOOPSIES (3:24)
Between the all-around results mix-up and the World Cup…reassignments…the US men's program had quite the controversial week at Winter Cup. Kensley breaks it all down, with statements from USAG about both issues.
USAG awarded the all-around medals to the wrong people. Great job.
Yul Moldauer was under the impression he had 3 world cup assignments. Turns out, nope.

We discuss the problems of miscommunication and having UNWRITTEN selection procedures for squads that have already been selected and meets that have already happened.

How do we make sure things like this don't happen again?
RAGE-O-METER (46:22)
Details on the unacceptable "deal" USAG proposed to survivors, including four tiers of settlement money based on famousness and the release of Steve Penny, Marta, Don Peters, John Geddert, All-Olympia and others from all future claims

W. T. (and we cannot stress this enough) F.

Jessica has some choice feelings about it.
MELBOURNE WORLD CUP OLYMPIC QUALIFIER (52:49)
The 6th of 8 Olympic apparatus qualifiers has concluded in Melbourne. We answer pressing questions like
Is Jade Carey an Olympian yet?

Are we emotionally stable enough to talk about what happened on high bar and the latest developments in Japanese Gymnastics Jail?

Could the US men actually earn an Olympic spot this way?

Does Gymnastics Australia have it together? (Nope)

Why is Jessica more interested in Tampax than in the results?
PLUS…
Winter Cup—actual gymnastics part!

We discuss improvements on USAGs part (what?), some interesting decisions about who made national team especially re: Alec Yoder, Gage Dyer's floor, Spencer's favorite Winter Cuppy moments, and what it means now for athletes who didn't make national team.

Women's NCAA news (1:29:18)

Spencer is soooooo glad we had so much other stuff to talk about that we didn't have much time to discuss the scoring at UCLA/Utah because he physically cannot.

Historic lead-iff 10 finally happened. Grace Glen got a 10 as the first person up on beam.

Maggie Nichols is injured, Michigan set a program record, and why we need receipts!
SUPPORT THE SHOW
Join Club Gym Nerd here

for access to our Behind the Scenes episodes!

Buy our awesome clothing and gifts here.
Club Gym Nerd Podcasts include:
RELATED EPISODES