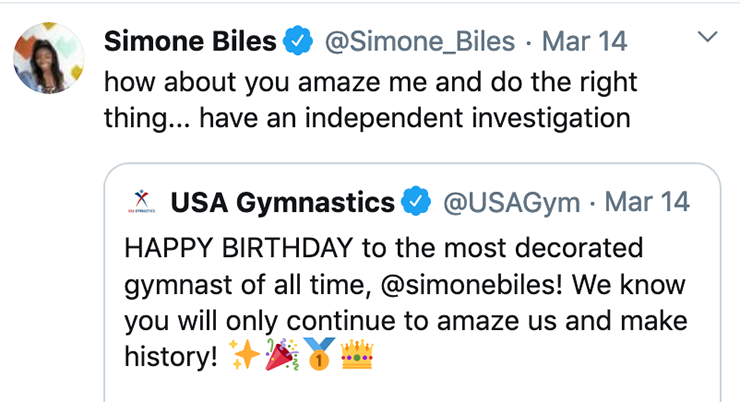 LISTEN HERE
GYMTERNET NEWS
Everything has been canceled. We run through the events that have been canceled thus far (spoiler: it's all of them), and theorize what it might mean for Olympic qualification—if the Olympics actually happen. Note to FIG: We already figured out what you need to do, so just do what we say and you might survive.
USAG has canceled events through May 10, but how much oversight does USAG have to tell clubs to stop training and classes? We discuss.
Jessica uses the Olympic Spirit as a vehicle to tell people to stop being the absolute worst
Spencer's favorite piece of news from the week, a (now-revised and no longer fun) real estate article that assumed Valeri Liukin and Yevgeny Marchenko were a couple.
Plus, Shannon Miller knows about being Shannon F🤸cking Miller, Nia Dennis was on Ellen, and Jessica is really into all the gymnastics relationship goss while Spencer pretends to be above it.
What's this? A federal investigation into Steve Penny potentially acting as an illegal agent for athletes? Oh tell us more.
NCAA
The NCAA season has come to a premature conclusion, likely spelling the end of gymnastics careers for this epic class of 2020 seniors. So, this week we have a fitting mini-commission about whether this is the greatest NCAA class of all time, and Jessica makes you have all the feelings about how the significance of this group of athletes goes well beyond gymnastics.
We wrap up the season and call on you to help us with an end-of-season awards list.
AND FINALLY
Simone is the queen of Twitter. The end.
BECOME A CLUB GYM NERD MEMBER
Join Club Gym Nerd for access to Behind the Scenes episodes here.
Buy our awesome clothing and gifts here.
RELATED EPISODES
MORE WAYS TO LISTEN