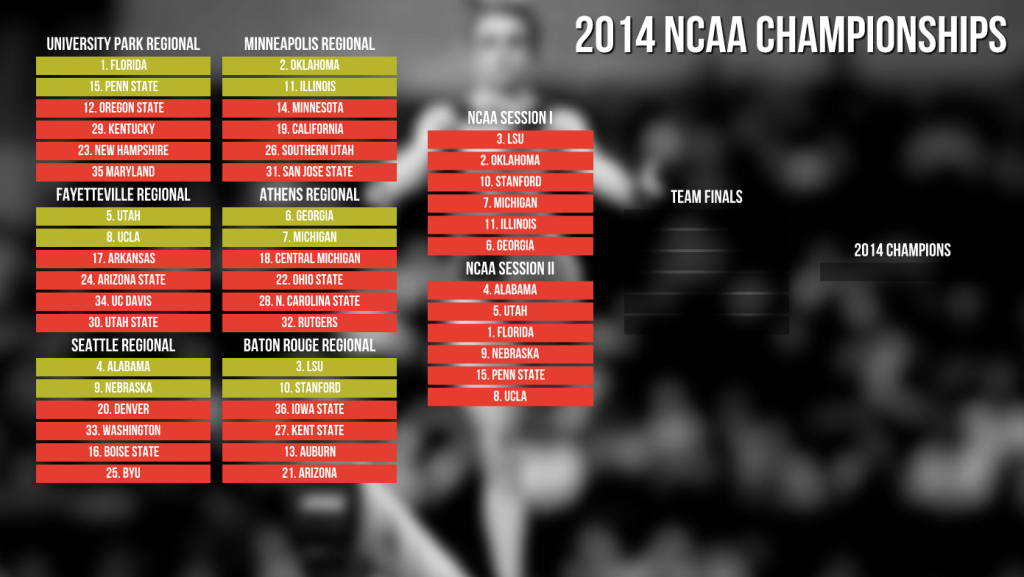 In the news, Jessica, Spanny, Uncle Tim, and Evan chat about:
New favorites, splat-fests and shockers from all six NCAA Regionals.
Spanny is back with her report from the Minnesota Regional where Oklahoma brought a whole new meaning to the "College Salute" and her insider take on Gabby Douglas's return to Iowa.
The non-gymnastic world's discovery of LSU's great Lloimincia Hall, and what Uncle Tim calls her "gospel tribute, which featured a lot of fierce stank face" floor routine. Listen to our interview with Lloimincia here.
If Shannon Miller began the sad wrist syndrome phenomenon that is currently plaguing the gymnastics community.
Russian Nationals where Komova returned in a familiar leotard (see below), Mustafina graced the floor, Grishina was injured and we found a new favorite in Seda "Miss Tic Toc" Tutkhalyan.
Justin Powers unusual routine at collegiate club nationals.
Simone Biles pulling out of the Pacific Rim Championships due to injury and being replaced by Peyton Ernst.
Announcement! The first ever GymCastic Meet-up is happening at the NCAA Championships. Come join us for a drinky-poo and gym-nerd out with your people!
When: 3:30-4:30 on Saturday, April 19th before Super-Six Finals.
Where: Todd English Pub, right behind the parking structure at BJCC arena.  It's only a three minute walk to the meet from here. The address is: 2221 Richard Arrington Jr. Blvd. N, Birmingham, AL 35203.


All of the results from NCAA Regionals
Rotation orders for NCAA Championships here.
The Road to Nationals – most beautiful ranking site for NCAA gymnastics.