[et_pb_section fb_built="1″ admin_label="section" _builder_version="3.22″][et_pb_row admin_label="row" _builder_version="3.25″ background_size="initial" background_position="top_left" background_repeat="repeat"][et_pb_column type="4_4″ _builder_version="3.25″ custom_padding="|||" custom_padding__hover="|||"][et_pb_text admin_label="Text" _builder_version="3.27.4″ background_size="initial" background_position="top_left" background_repeat="repeat"]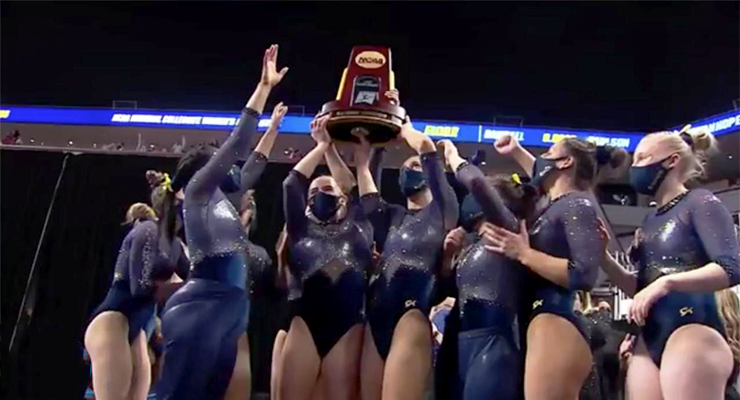 LISTEN

WATCH
Club Gym Nerd members can watch the podcast being recorded and see video clips of the gymnastics while we discuss.Please login to your Club Gym Nerd account to listen and/or watch this episode. Not a member? Join here.

BREAKING NEWS
We reached out to USAG about Jade Carey's Olympic spot, whether she's going to compete at Trials, and whether she'll be considered for the main team. Their answer was wild. And now we have some additional questions:

"Based on our understanding of the current FIG qualification rules, we believe Jade Carey's performances on the floor exercise in the World Cup Series have mathematically qualified her, by name, to the Tokyo Olympic Games. Barring any rule changes, we anticipate that FIG will award her the spot. We are extremely proud of Jade's performance on the world stage, which earned her this well-deserved opportunity. This path – to pursue the opportunity for an individual qualification – was open to certain qualified national team athletes. No other eligible athletes opted to pursue this qualification route. We anticipate that Jade will be competing at Trials. Unless she accepts the individual spot beforehand, Jade would be eligible to make the four-person team. At this time, FIG has not announced when they will officially award the spot or whether they will impose a deadline for acceptance. In any event, the choice to accept or reject the qualified spot is hers, and she has the full support of USA Gymnastics in any outcome."

Golden is coming. A six-episode docuseries about Laurie Hernandez (produced by Deanna Hong), Morgan Hurd, Suni Lee, Konnor McClain, and MyKayla Skinner in the run-up to Trials.
NCAA NATIONALS
Michigan becomes the 7th team to win a national title! We gush about their performance, the excitement of nationals, and who's going to be the next team to win a title.
Valiant efforts from Oklahoma and Utah, plus we parse just what went wrong for Florida in the final month
The Cal COVID scare right before the semifinal
That nail-biter second semifinal where Utah advanced by less than a tenth over Alabama and LSU
Is 5-up, 5-count the way forward for NCAA gym?
JAIME SANTOS Esq. INTERVIEW
Ms Santos is a partner in Goodwin Procter's Supreme Court and Appellate Practice. She explains what NCAA vs. Alston case heard by the SCOTUS in March is about and what that outcome could mean for your favorite gymnast or college team.
EUROPEAN CHAMPIONSHIPS
It's coming this week. We run through the schedule, what's at stake in terms of Olympic spots, and the latest news out of training.
JOIN CLUB GYM NERD
RELATED EPISODES
MORE WAYS TO LISTEN
[/et_pb_text][et_pb_comments _builder_version="4.4.1″][/et_pb_comments][/et_pb_column][/et_pb_row][/et_pb_section][et_pb_section fb_built="1″ _builder_version="4.4.1″][et_pb_row _builder_version="4.4.1″][et_pb_column type="4_4″ _builder_version="4.4.1″][/et_pb_column][/et_pb_row][/et_pb_section]