[et_pb_section fb_built="1″ admin_label="section" _builder_version="3.22″][et_pb_row admin_label="row" _builder_version="3.25″ background_size="initial" background_position="top_left" background_repeat="repeat"][et_pb_column type="4_4″ _builder_version="3.25″ custom_padding="|||" custom_padding__hover="|||"][et_pb_text admin_label="Text" _builder_version="3.27.4″ background_size="initial" background_position="top_left" background_repeat="repeat"]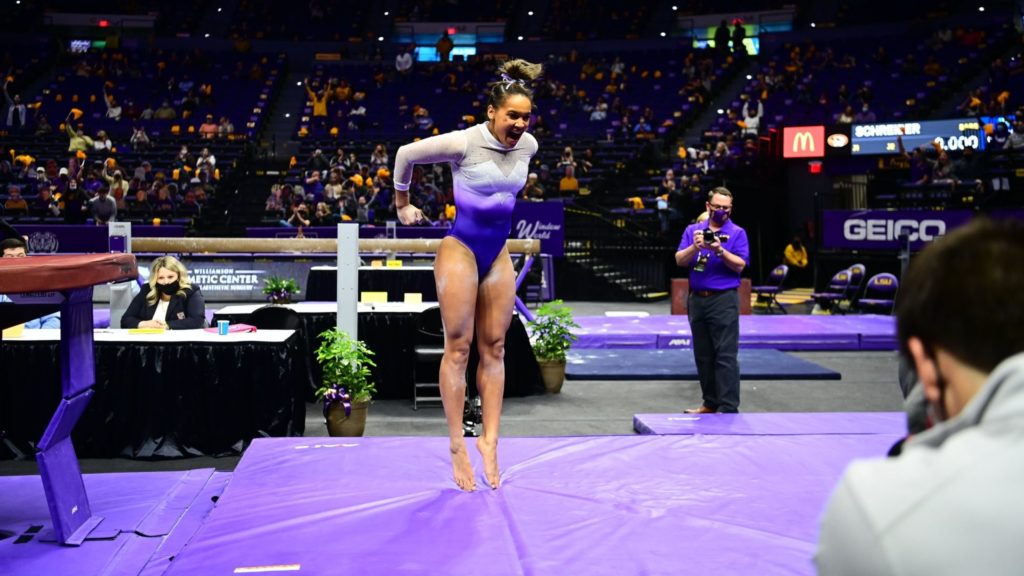 LISTEN

WATCH
Club Gym Nerd members can watch the podcast being recorded and see video clips of the gymnastics while we discuss.Please login to your Club Gym Nerd account to listen and/or watch this episode. Not a member? Join here.

THIS WEEK

NCAA Nationals are here. We preview the action, with expectations for each teams and key gymnasts to watch.

SEMIFINAL I: Florida, Michigan, Cal, Minnesota

The semifinal of gymternet darlings
What does a victory look like for these teams? What should our expectations be for Michigan?

SEMIFINAL II: Oklahoma, LSU, Utah, Alabama

The semifinal of teams that will outright murder you for a trophy
Was Utah's regionals victory over LSU foreshadowing or an aberration?

Who's going to win the AA title, and if justice could be done, who would win each event?
Team title picks, and one final insane prediction.
Schedule
Friday, April 16
1:00pm ET/10:00am PT – Semifinal I
LIVE BTS between sessions
6:00pm ET/3:00pm PT – Semifinal II
Saturday, April 17
3:30pm ET/12:30pm PT – Team Final
How to Watch
Semifinal I and II on ESPN2, Team Final on ABC.
All sessions will have event streams and four-event view on ESPN3.
THE POSTS
JOIN CLUB GYM NERD
RELATED EPISODES
MORE WAYS TO LISTEN
[/et_pb_text][et_pb_comments _builder_version="4.4.1″][/et_pb_comments][/et_pb_column][/et_pb_row][/et_pb_section][et_pb_section fb_built="1″ _builder_version="4.4.1″][et_pb_row _builder_version="4.4.1″][et_pb_column type="4_4″ _builder_version="4.4.1″][/et_pb_column][/et_pb_row][/et_pb_section]