What We're Talking About
The table is set. In Semifinal 1: Florida, LSU, Cal and Denver. In Semifinal 2: Oklahoma, UCLA, Utah and Kentucky. These are the elite eight who will be traveling next week to Fort Worth in hopes of taking home the Championship title. A lot has already been said about this past weekend's Regional competitions (we have a great recap in this week's podcast), but what's really interesting is how these Regionals weren't what we would have expected at the beginning of the season. No Sunisa Lee, no Grace McCallum and no Morgan Hurd (who had competed at certain points during the season). We also lost Trinity Thomas in the opening round—and contrary to what some argued, her leg in a boot would indicate her injury is not a cramp. What the Gators have said is, "Right lower leg injury. Status is day to day." Hopefully the break between Regionals and Championships will give her enough time to resume competition.
Sadly, we also know is that Suni is done at Auburn. This week she confirmed that health issues related to her kidneys is what's kept her out of competition in recent weeks—and that she's still focused on Paris 2024. Who would have thought at the beginning of the year that neither Suni nor Jade Carey would be battling it out for the all-around title? It's sad, but the unpredictability is part of what makes sports so exciting! 
In fact, Championships might be just as surprising (holy cow was Regionals thrilling) in who we see and don't see compete. Utah coach, Tom Farden, has indicated that Grace might be ready to return to bars and beam. Morgan posted a picture of herself in a leotard saying, "lookin' forward to natty's." Jade is going, but the No. 1 ranked all-arounder only qualified as a beam specialist! During Regionals KJ Johnson returned from injury for LSU; and Brooklyn Moors entered the lineup for the first time all season and hit on vault and floor for UCLA.
Reminder: GymCastic will be in Fort Worth covering Championships, which begin on the 13th. We have an amazing Live Show scheduled on the 14th (hope to see you there, virtually or in person). And then on the 15th a champion will be crowned (and then we're going to do a special podcast for club members right after!).
* Just want to add that your support is what makes our travel and coverage of these competitions possible. Thank you!
Feelings
Kennedy Hambrick didn't get the finale she deserved.
Fingers crossed Trinity gets a championship sendoff opportunity.
Kentucky is returning to nationals for only the 2nd time in school history. This is going to happen more often.
Cal's beam. Eeeeeeeeeee!
Jenny Rowland looks pretty smart having some reserves compete against Oklahoma a few weeks ago.

She should keep the student-store couture look. It's working.

We all expected Michigan would be battling to make the final four, but now that they're out… is LSU the dark horse? Or is it Cal?
Who would have thought we'd see two falls from Oklahoma and three from Auburn?
Brooklyn's floor… we missed you!
A reminder that it has taken years of work to make it look easy.
---
Facts
Ten gymnasts recorded perfect 10s during Regionals: Maile O'Keefe, Jaedyn Rucker (x2), Ragan Smith, Jordan Bowers, Courtney Blackson, Kayla DiCello, Sierra Brooks, Katherine Levasseur, Jordan Chiles, and Selena Harris.
Michigan didn't advance to Nationals but Sierra Brooks and Gabby Wilson will return.
Michigan and Ohio State finished with the highest scores in history not to advance: 197.750
Oklahoma won their region counting a fall.
No Big 10 teams made Nationals.
University of Wisconsin Oshkosh has repeated as NCGA National
Champions.
Kayla DiCello is the only freshman in the country with multiple 10s.
Boise State will have more gymnasts (Courtney Blackson, Emily Lopez) at Nationals than Auburn (Derrian Gobourne).
Every press conference needs a Jordan Chiles.
Regionals should have been on broadcast TV. Women sports are popular!
---
GymCastic Live with Elizabeth Price and Taylor Rice

---
Award(s)
---
What's On the Socials?
And then there were 8️⃣ pic.twitter.com/Z0UQ04SPrr

— ESPN (@espn) April 3, 2023
https://twitter.com/intlgymnast/status/1643292304239624193?s=20
When the final NCAA gymnastics regional goes down to a tiebreak 😬 pic.twitter.com/KMhch9ZGxm

— espnW (@espnW) April 3, 2023
So many stars in this picture! pic.twitter.com/7nihztuBvG

— Aimee Boorman (@Salto_Coach) March 24, 2023
---
Quotes
"I have been dealing with a non-gymnastics health issue related to my kidneys…It's been challenging to end my Auburn career early, but I am thankful for all of the love and support. …War Eagle forever." ~ Suni Lee, Olympic Champion
After the Auburn season ended, Suni made a post on social media providing more details about her competition absence the last few weeks.
♦
"I understand choosing a neutral location and I'm not a politician… and of course I believe in equal rights… You best believe UCLA is going to walk in there with rainbow stickers all over our eyes… We don't choose where we compete, just like we don't choose the scores we get. Hopefully one day Texas won't have those rules."
~ Margzetta Frazier, Advocate
The UCLA gymnast responded to a question during the press conference at Regionals when asked by Jessica O'Beirne about competing in Texas where women and LGBTQ rights are not equal.
"Surprise!!!…Newest member of the family baby Harmer coming September 2023 🤍" ~ MyKayla Skinner (Harmer), Olympic Silver Medalist
Congratulations to the happy couple who announced the upcoming arrival of their first child.
♦
"If Grace is an option on bars or beam we'd look at that."  ~ Tom Farden, Prepared Coach
Coach Farden commenting on the possibility of Grace McCallum competing at the national championship.
♦♦♦
---
College & Cocktails
Listen to this week's bonus episode: College & Cocktails: Pre-Regional Finals with Olivia and Scott
Cocktail of the Week: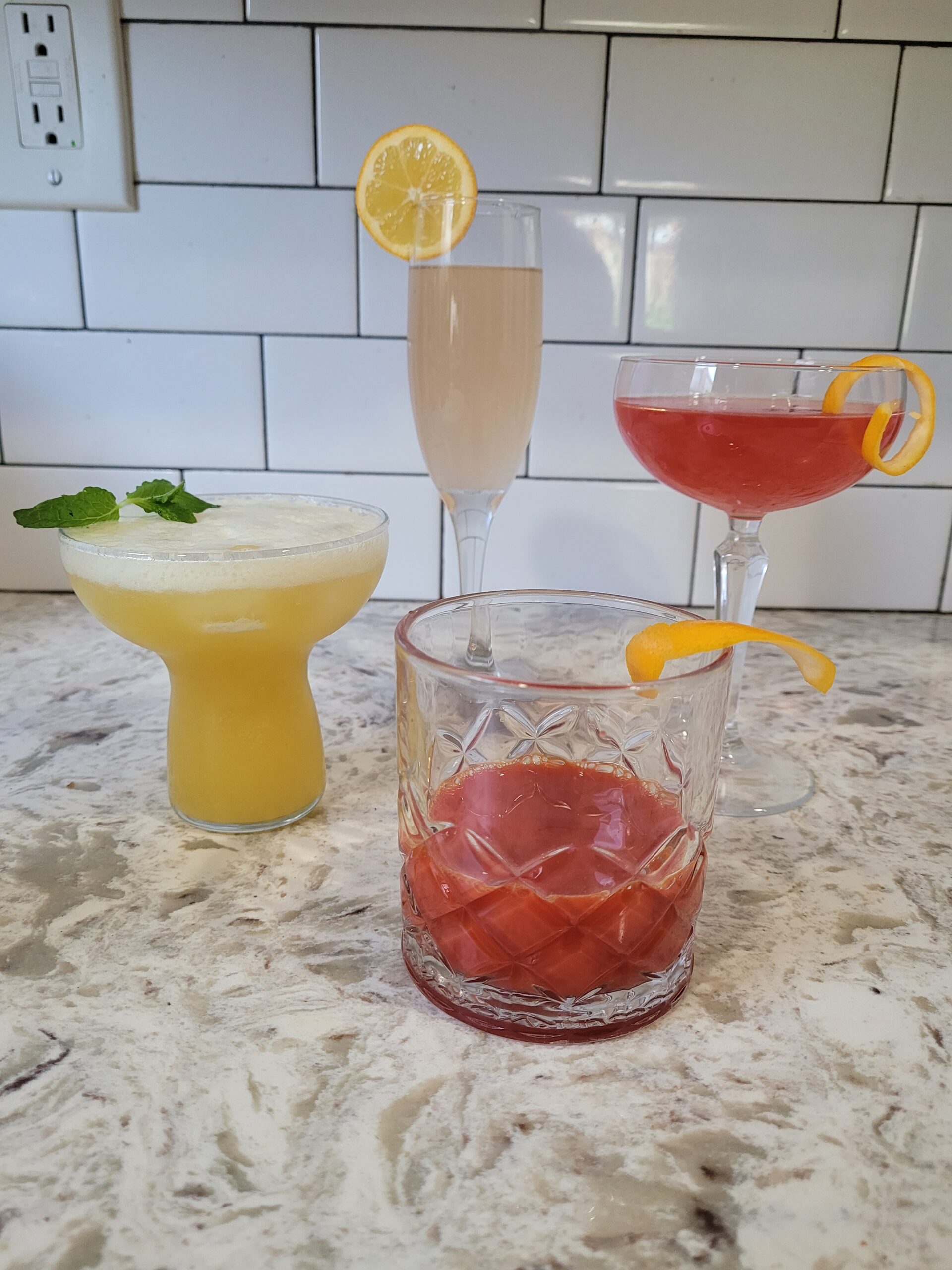 Sudden Blood Deathmatch
A riff on a Blood and Sand felt like an appropriate homage to the teams in the first round of regionals.
What Happens in the Air, Stays in the Air
The final sparkles make for a deduction-free beverage, regardless of how it looked going from point A to point B.
Gym Slam
Four events, four ingredients, let's see if we can get another on the board!
Commentary is Hard
Like commentary, this drink is not for everyone. Spirit-forward and honest with a level of nuance and complexity that seems hard to come by sometimes.
No Numbers, Only Vibes
Why let Numbers get in the way of the Vibes? Certainly won't happen if you're drinking this!

♦♦♦
What? You want even more? Join Club Gym Nerd and you get a bonus episode, College & Cocktails, every Friday after our meet of the week. Once the NCAA season is over you continue to get a weekly bonus episode every Friday afternoon. Plus you get access to all of our archives, exclusive content and more. Then we give the sober analysis on Monday (or Tuesday) after we've allowed the data to penetrate our feelings.
This column was composed and compiled by Steve Cooper, Editor, GymCastic; as performed by hosts Jessica O'Beirne and Spencer Barnes.
Prefer to get this delivered to your inbox? Sign up for the newsletter here.