[et_pb_section fb_built="1″ admin_label="section" _builder_version="3.22″][et_pb_row admin_label="row" _builder_version="3.25″ background_size="initial" background_position="top_left" background_repeat="repeat"][et_pb_column type="4_4″ _builder_version="3.25″ custom_padding="|||" custom_padding__hover="|||"][et_pb_text admin_label="Text" _builder_version="3.27.4″ background_size="initial" background_position="top_left" background_repeat="repeat"]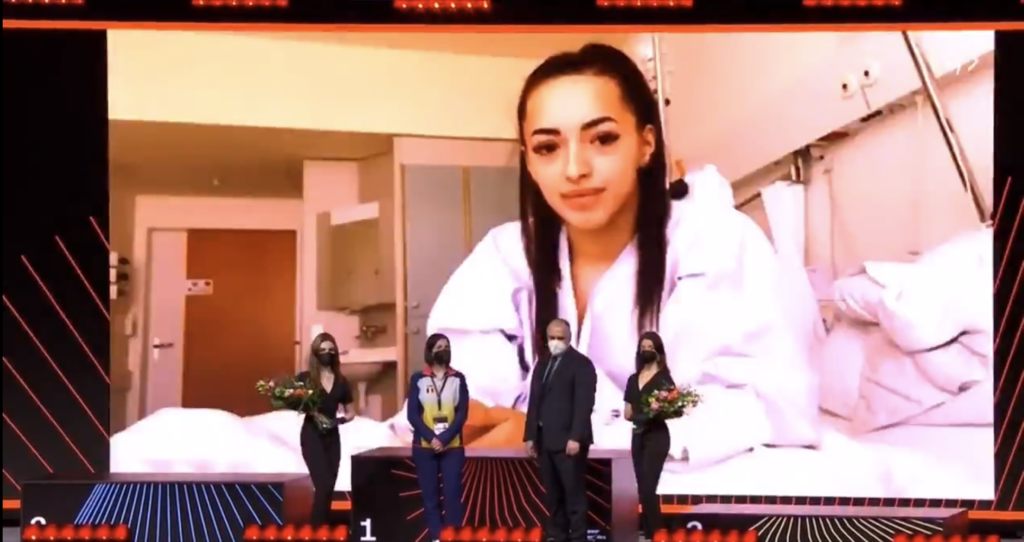 LISTEN

WATCH
Club Gym Nerd members can watch the podcast being recorded and see video clips of the gymnastics while we discuss.Please login to your Club Gym Nerd account to listen and/or watch this episode. Not a member? Join here.

EUROPEAN CHAMPIONSHIPS
Four more Olympic spots have been clinched, including by Larisa Iordache (ROM)! We discuss her valiant triumph over kidney infection, her intent on giving us all heart attacks, her fast-forward award acceptance speech, and…maybe a little about the scoring.
Nikita Nagornyy's (RUS)triple pike. That's all.
Qualification was super easy to follow, the stream worked, the scoring worked, and we have no notes.
The German unitard revolution!

Related sign petition for longevity and health; get event specialists to Level 10 Championships.

Russian dominance, and how Listunova's victorious AA score compares internationally
The glory of Jessica Gadirova (GBR)
Vanessa Ferrari's first Euro or world medal in 7 years
Giulia Steingruber's (SUI) first Euro medal in 5 years
Melanie de Jesus dos Santos (FRA) busting out a full-twisting double tuck beam dismount to beat Sanne
Our trauma for Rhys McClenaghan, Max Whitlock, Tin Srbic, Epke and Bart Deurloo
Shock pommel horse champion Artur Davtyan and his Armenian genocide remembrance flower
Kensley's ode to David Belyavskiy (RUS)
AMERICAN CLASSIC
FLO…
Skye Blakely won the AA title
Sunisa Lee's bars and beam victory, and Spencer and Jessica get into a fight about where she fits in the US Olympic picture if her leg won't heal in time for all-around.
Kara Eaker's new beam composition. Did they fix the problems?
JOIN CLUB GYM NERD
RELATED EPISODES
MORE WAYS TO LISTEN
[/et_pb_text][et_pb_comments _builder_version="4.4.1″][/et_pb_comments][/et_pb_column][/et_pb_row][/et_pb_section][et_pb_section fb_built="1″ _builder_version="4.4.1″][et_pb_row _builder_version="4.4.1″][et_pb_column type="4_4″ _builder_version="4.4.1″][/et_pb_column][/et_pb_row][/et_pb_section]