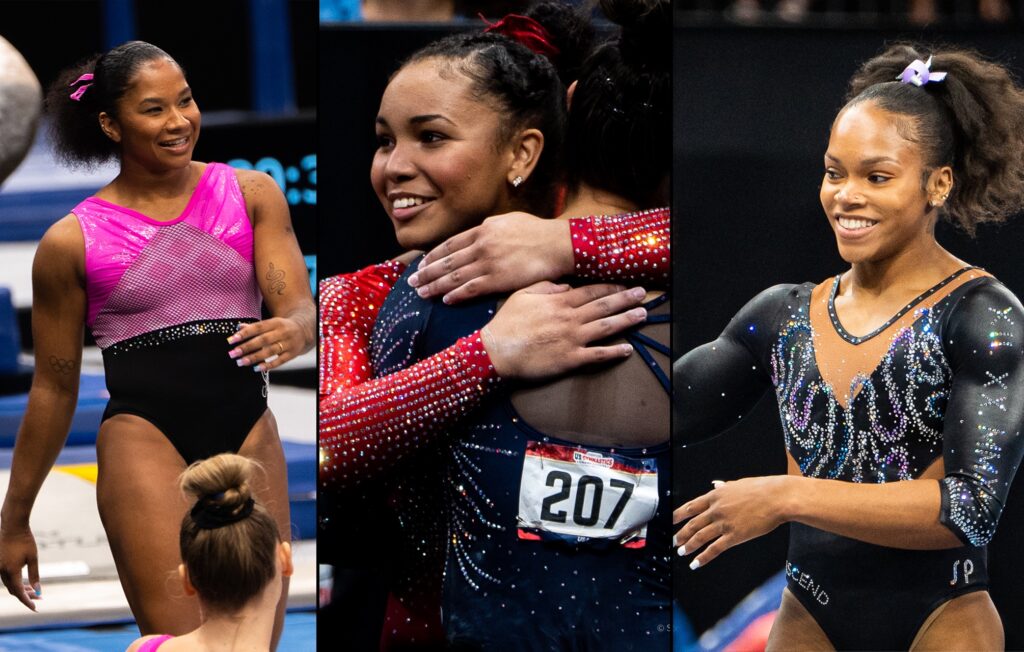 LISTEN HERE
Club Gym Nerd members can watch the podcast being recorded and see some of the gymnastics we discuss, plus get access to all of our exclusive interviews and Behind The Scenes episodes. Please login to your Club Gym Nerd account to listen and/or watch this episode. Not a member? Join here.

Headlines

Riley McCusker posted on Instagram, "At the moment, my voice is being repressed. Don't ever let anyone silence you the way they are trying to silence me." We discuss the cross complaint Maggie Haney has filed against Riley, her parents, Tom Forster and more.
US Championships Women
Konnor McClain edged Shilese Jones and Jordan Chiles for the national all-around title.

How do their scores compare to what's happening around the world?
How Jordan Chiles brought NCAA to elite, what was most impressive about McClain's performance, and who was the E-score champion of the meet.

Why wasn't Leanne Wong named to national team after co-winning the bars title? We'll tell you—and assess whether it makes sense (it doesn't).
How did Jade Carey's performance compare to her Olympic routines, is Kayla DiCello going for worlds, and where might Skye Blakely fit into the national team picture? Plus, who else we enjoyed watching in the senior and junior divisions.
In the non-gymnastics department: Who was honored by USAG at the meet, representing a major cultural shift, and which gymnast could Watanabe not stop watching?
The USAG logo rebrand. We probably have too many thoughts.
US Championships Men
What stood out to us in the arena, why this is such an exciting era for the US men, and how the meet format could be improved.
Brody Malone and Donnell Whittenburg are automatically qualified to the worlds team. We discuss how they did it, what this means for team selection, and what message this bonus format sends to the rest of the US men.
Asher Hong and Fred Richard: The future is bright
Why Colt Walker and Yul Moldauer were actually, really on the podium, even though they finished 5th and 6th.
Which gymnasts desperately need to bring big gymnastics to the selection camp
Men's Euros

We talk sustainability and science, and also a little bit of gymnastics.
Surprises: Rhys not making the horse final, Srbic not making the high bar final—what world is this?
Plus, the virtues of not going out of bounds, the poetic victory for Artem Dolgopyat, the pommel horse bronze medal controversy, why Petrounias can't go to worlds, did someone get Galieva'd on vault, and what angered the German crowd the most.
JOIN CLUB GYM NERD
RELATED EPISODES & RESOURCES
MORE WAYS TO LISTEN HERE