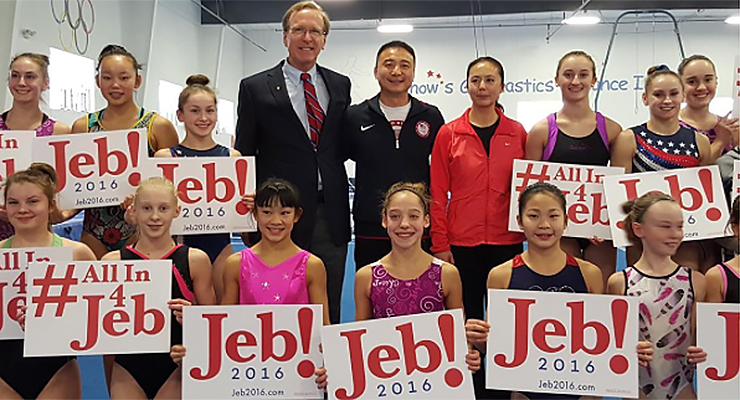 Remember this show is rated PG 13!

In the gymternet news, Uncle Tim, Lauren Hopkins, Spanny Tampson and Jessica chat about:
The Bronze trailer got even raunchier and we can't wait for this movie to come out!

Mustafina's bad joke: a photo of her holding a gun to her head

Liang Chow posting photo of himself and his gymnasts holding Jeb Bush signs

American Cup roster updates and why Jesolo is becoming the greatest meet ever. 

Our sadness of the lack of camp news.

Lauren's profile on 26 year-old Armenian-American, Houry Gebeshian who could be the first female gymnast ever in the Olympics for Armenia.

(30:00)What kind of themed gymnastics video what Mr Moceanu (Dr. Mike Canales) should do for his 40th birthday with his wife, Dominique Moceanu.

What gymnastics spin is greater than the Temple women's team who turned getting stuck in a blizzard for 30 hours into a team building event.

(00:46:00)Feedback from Angela who thought our discussion of transgender athletes was uninformed, to say the least.

(01:03:00)NCAA NEWS:

Why we

 

love

Elizabeth (Ebee) Price

An update on Katelyn Ohashi who, after x-rays came back negative, was revealed to have  a fractured sternum after a CT Scan on Wednesday.

Is the Michigan men's dynasty over?

Some of the Florida 10's made us squeal with joy, like Bridget's

beam,

other's were

questionable.
Why 

Aja Sims got 700 million Spanny points. 

The best comeback skill of 2016: hint, Boguinskaya and Nastia argued about it at length.
Why UW is the team we should all be watching.
The most heartbreaking meet we've ever watched: Auburn vs. Arkansas.

February is the month of love and what do we love? Gymnastics t-shirts! We are having our very first design contest, and your art could be Gymcastic's newest t-shirt.  Submit your best gymnastics themed art to be made into some sweet swag.
Grand Prize (x2 Winners): Your design featured on our page, your artwork on the bodies of gymnerds everywhere, and a free t shirt with your design!
How to Submit: Post your design on Instagram, Tumblr, or Twitter. Use the hashtag #gymcasticdesigncontest
FAQ and Rules here.

GymCastic members are automatically entered to win 6 awesomely gym nerdy prizes per year. This month, one lucky member with win the exclusive, sold-out, Cloud & Victory Legends sweater.