LISTEN HERE

Who: Jordyn Freakin' Wieber! Olympic Gold medalist, all-around World Champion, Arkansas head coach… national treasure!
When: August 19th, Friday–festivities will begin at 11:30 a.m. (EDT)
Where: At Nationals in Tampa, FL

Tickets now on sale!

The theater is half the size as our last show, so we expect the in-person seats to sell out. So don't wait.
Club Gym Nerd members can watch the podcast being recorded and see some of the gymnastics we discuss, plus get access to all of our exclusive interviews and Behind The Scenes episodes. Club members get 8 extra episodes in August with live coverage from Euros and US Championships.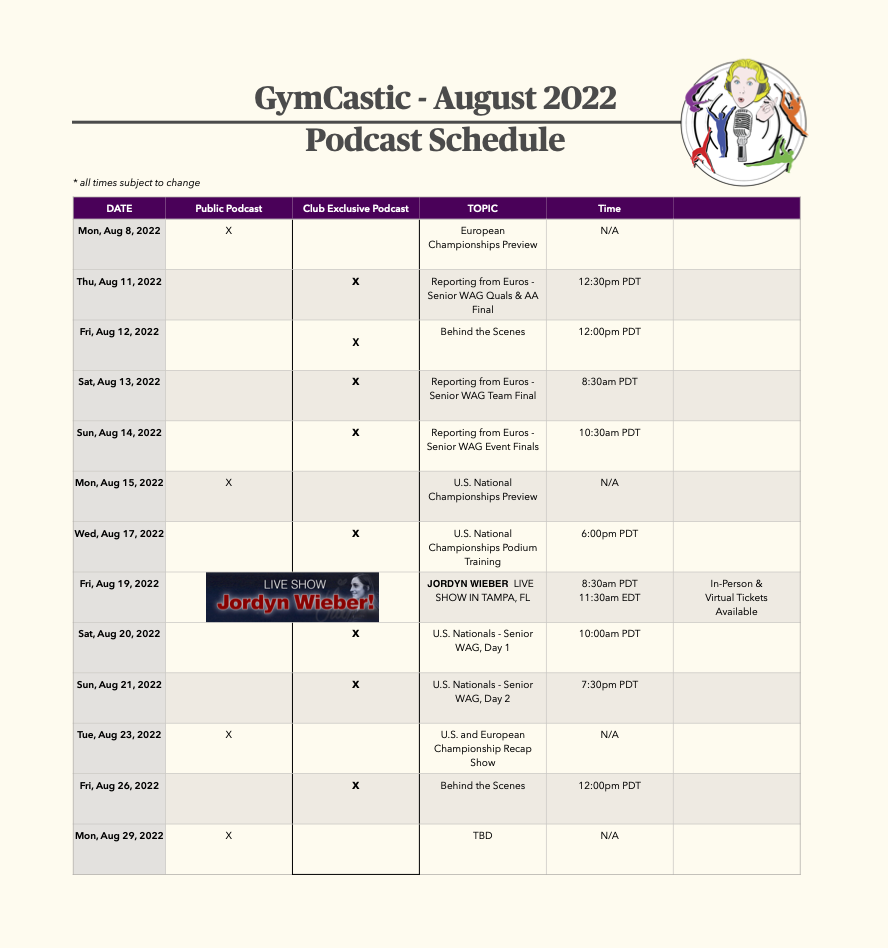 Please login to your Club Gym Nerd account to listen and/or watch this episode. Not a member? Join here.

European Championships Preview

The women's competition begins Thursday. Pauline, Kensley, and Deanna will be in the arena bringing you all the details with Behind the Scenes member shows on Thursday, Friday, Saturday, and Sunday.
Pauline fills us in on the significance of competing at the European Championships and what she thinks of this year's arena
The team competition: Previewing the medal frontrunners and the bubble teams fighting to qualify to worlds, including the budding rivalry between Great Britain and Italy, the Ukraine question, and what we're going to see from the Scandinavians
Event finals: Pauline tells us which athlete's progression makes her proud, and we discuss the wide open vault field, the loaded bars field, the Pauline Schäfer of it all, and who broke the floor this week.
Plus, gymternet news about Indiana and the presence of USAG and the NCAA in the state and NIL deals, and then we make Jessica talk about the soccer a little bit.
Feedback: Is having a second vault like training a fifth event? Pauline gives us her take and reveals which event in the scariest for her.
JOIN CLUB GYM NERD
RELATED EPISODES & RESOURCES
MORE WAYS TO LISTEN