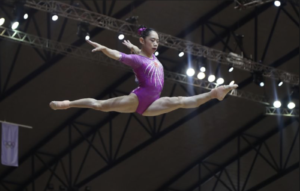 LISTEN HERE
WOMEN'S BEAM, FLOOR and MEN'S PARALLEL BARS, VAULT AND HIGH BAR EVENT FINALS
Simone Biles won her back her gold crown on Floor. She also tied Khorkina's record for total World medals and broke Khorkina's all-around record by winning her fourth World all-around title.
Simone, Morgan Hurd and Mai gobbled up the floor medals like champs but we have some questions about Melanie de Jesus dos Santos floor score and obviously Brooklyn Moors should have won all the medals because she is ART!
Ri Se Gwang was allowed out of his secret training dungeon to grace us with his bionic ankles and crazy difficulty for the vault win.
As expected the man should be given 10's for execution on P-Bars won gold and Oleg Verniaev hung in for silver.
High bar was controversial with Epke winning with his huge D and improved form, but Kohei's better E earning silver. Sam Mikulak won his first EVER individual World medal with the highest execution of the final.
WATCH ALONG WITH US ON OUR YOUTUBE CHANNEL HERE
Beam Finals



Men's Vault Final

Women's Floor



FURTHER READING
SUPPORT THE SHOW
RELATED EPISODES
MORE WAYS TO LISTEN