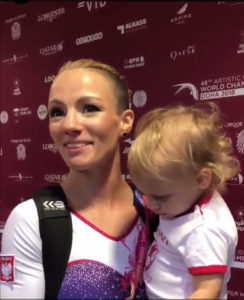 LISTEN HERE
DOHA WORLDS: DAY THREE WOMEN'S PRELIMS
Spencer, and Jessica  chat about the results of women's prelims at the 2018 Doha Artistic Gymnastics World Championships:
Simone's kidney stone (which she has nicknamed, "The Pearl of Doha") couldn't stop her leading by almost five points and making the Biles Vault official.
We rave about Morgan Hurd peaking at exactly the right time to make AA finals. Kara Eaker's glorious beam, Riley McCusker's bars, Grace McCallum being money, and Ragan Smith being able to be part of the team on the floor.
Nina Derwael (BEL) winning bars so far and probably making floor finals!
Grown Ass Women news: Chuso, Germany, Netherlands and Japan.  Plus Marta Pihan-Kulesza (POL) bringing her baby Pink Panther, Jagna into the mixed zone and 

Jurkowska-Kowalska (POL), 26 making the laid-out gainer DOUBLE full beam dismount officially called the Jurkowska-Kowalska!

Storms, falcons and the positive side of  Doha hosting a world championships.
FURTHER READING
SUPPORT THE SHOW
RELATED EPISODES
MORE WAYS TO LISTEN