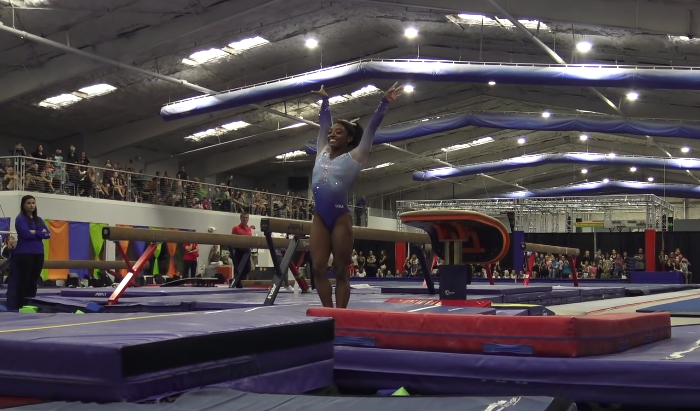 LISTEN HERE
IN THE NEWS
BREAKING TUESDAY UPDATE: Mary Bono has resigned. We perform a dramatic reading of her resignation letter. Now, to the show.

USAG appoints Mary Bono as its interim CEO, and Jessica and Spencer have no opinions about that. Oh wait, the opposite. 

The Nike tweet and why that (and her fake apology) is so, so bad

She worked for the damn USAG law firm

Meanwhile, Simone is being a CHAMPION

Has USAG learned NOTHING? (Spoiler: yes)

On what planet was a politician the right person right now?
ACTUAL GYMNASTICS
The US women's worlds team has been named! And it makes sense!

SIMONE DEBUTED A NEW VAULT YOU GUYS

But seriously. This vault.

I mean…come on.

Just…

Streaming the selection competition — good for everyone!
Kara Eaker's beam score – how realistic is this?

BUT WHO IS THE ALTERNATE? WHAT SHOULD THE TEAM FINAL LINEUPS BE? WHO DOES BEAM IN QUALIFICATION? We discuss.

A taste of next week's worlds preview as we discuss medal prospects for the US women's team
GYMTERNET NEWS
Tom Forster did a Twitter Q&A that exceeded expectations and provided some actual information!

What is the Ted Stevens Act, how is it influencing US Olympic qualification decisions, and does that even make sense? 

USAG released the Jade Carey Rules about individual Olympic qualification. We break them down, with comments.
MEET ROUNDUP
Youth Olympic Games — Italy has an all-around champion, Simone Biles wins meets she doesn't even enter now, and we dork out about the future for Ireland and Finland

Romanian nationals — Denisa Golgota withdrew, sending the gymnastics world into a state of panic, but things look good for the 2020 seniors
FURTHER READING
SUPPORT THE SHOW
Join Club Gym Nerd here.
Buy our awesome clothing and gifts here.

 The DOHA GEAR is ready for you! Boycotting and watching from home? We have that covered. Posters? That too!
RELATED EPISODES
MORE WAYS TO LISTEN