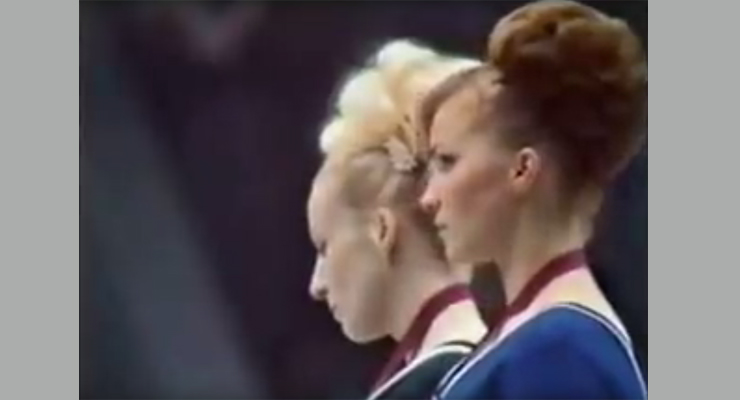 LISTEN HERE

This week, we have a special episode commissioned by InterGalactic Champion level Club Gym Nerd member Matt who, inspired by Queen Alexandra Raisman, requested an episode about athletes who were bold enough to make a difference in the quality of life for others. He said, "Thus, for my commissioned episode, I would like for you to name your All-Olympic team of difference makers. Honorees must be Olympic gymnasts from any country or era who made a positive impact." Let's do this! Here are the athletes we're naming to our Olympic team of difference makers.
Team Captain Vera Caslavska, who bowed her head in the 1968 medal ceremony to protest Soviet incursion in Czechoslovakia
Hong Un Jong and Lee Eun Ju—The North/South Korea selfie heard 'round the world

The Kuwaiti gymnast who came to worlds in 1991 just after documenting the Iraqi invasion of Kuwait
Sub-discussion – the Japanese leotard in 2012
Farah Ann Abdul Hadi and daring to (GASP) wear a leotard

Agnes Keleti, who survived WWII by posing as a Christian maid to return to gymnastics and become the most decorated Jewish Olympian (to that point)
Emilia Eberle, Jennifer Sey, Marcia Frederick, Dominique Moceanu, the 2011 Dutch team, and all others who have spoken out against abusive coaching
1996 Canadian Olympian Kris Burley, who came out after retiring in 1999 and later joined the COC's program to combat homophobia in sports
Jeffrey Wammes, who came out in an interview with Linda Magazine in 2011, and continued competing until 2016
Alexis Brown of UC Davis, who kneeled during the national anthem during the 2017 season
Mirabella Akhunu, who changed what you thought of when you thought Ukrainian
1968 beam champion Natalya Kuchinskaya, who said obvious things about coaching the person rather than the gymnast before people were ready to hear it
Firsts from Dianne Durham and Wendy Hilliard

All those responsible for the introduction of the vaulting table

Olympians who spoke up during a major competition about safety: Allana Slater and Bart Deurloo
FURTHER READING
Chalking Up: My Life in Elite Gymnastics, by Jennifer Sey
Nike is a Goddess: A History of Women in Sports, by Lucy Danziger (Agnes Keleti's story)
SUPPORT THE SHOW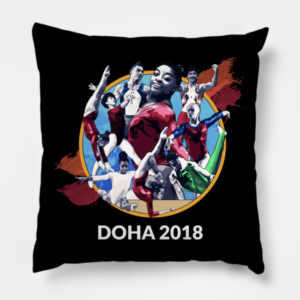 RELATED EPISODES
CONTEST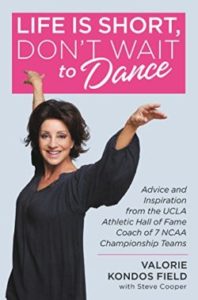 What: 5 winners get a copy of Miss Val's book: Life is Short, Don't Wait to Dance 
Grand Prize: Book and 15 minute personal phone call with Miss Val.

How to Enter: Using the #DontWaitToDance on Twitter or Instagram tag us @GymCastic with a 5 second video doing your favorite UCLA floor choreography. Doesn't have to be you, use your dog, fingers, make a friend do it. 

Bonus entries: Link to the book. Enter as many times as you want. 
When: Now to October 5th, 2018
*Conflict of Interest Disclaimer: Jessica's husband co-authored this book.
MORE WAYS TO LISTEN