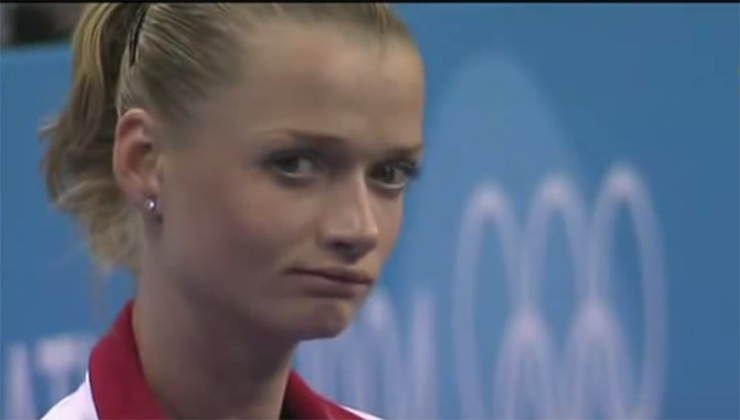 LISTEN HERE

This week's episode was commissioned by Club Gym Nerd member Bella, who asked for an episode about all things Svetlana Khorkina: the good, the bad, and the ugly. 
Part 1: Getting philosophical with the question, who is Svetlana Khorkina?

The height. The hair. The diva. The queen. The drama. The "villain."

Part 2: The good

The champion – 7-time Olympic medalist; 20-time world medalist; 47 medals across Euros, worlds, and Olympics
The innovator – 7 eponymous skills, at least one on each event. We pick favorites.
The artist – all-time favorite Khorkina floor routines.
All-time best Khorkina moments

The scream heard 'round the world during the 2000 all-around final
The 1996 Olympic gala dismount
Giving the vault final spot to Zamolodchikova
That time Zamo did the worst bars routine of all time and Khorkina died of hilarity

Part 3: Chatting with Luba

Luba from Gymnovosti gives us the inside scoop on Khorkina's new book "The Magic of Winning" and the cultural and social context in which the legend that is Khorkina is situated.
She has translated all the details and best quotes from "The Magic of Winning" on her site.

Part 4: The bad and the ugly

The 2000 Olympic Team Final meltdown
The definitely real, vast international gymnastics conspiracy against Svetlana Khorkina
Why Khorkina is basically if tumblr were a person
Her not-great reaction to the AA silver in 2004
Khorkina wisdom

On how success feels: "

I didn't feel anything, apart from maybe when I was on the top podium and they were underneath."

On modesty: 

"I changed people's attitudes. It's very good to be sexy. My career made it clear that tall girls can do incredible things. I opened the way. Now I'm famous all over the world."

On dealing with disappointment: 

"I will leave what happened on the vault far behind me, like the North Pole."

On ewww: "Age isn't important to me. 'You know they say a man sometimes prefers older women because they can satisfy him more. It's the same in gymnastics."

On losing graciously: 

"I've seen a much tougher opposition than her. Let's see how long she can remain on top. Can she keep going and compete in two more Olympics like myself?"

Part 5: Is Svetlana Khorkina the greatest gymnast of all time?
FURTHER CRAZY-QUOTE READING
SUPPORT THE SHOW
RELATED EPISODES
MORE WAYS TO LISTEN