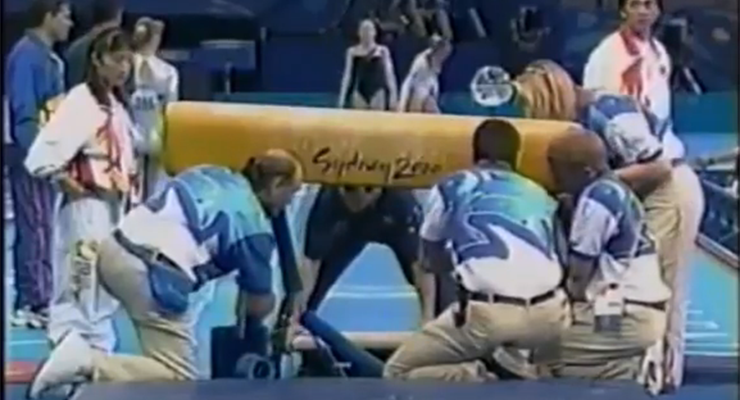 LISTEN HERE

This week's episode is commissioned by Club Gym Nerd member Courtney, who commissioned an episode all about the Sydney women's all-around final saying simply, "Because I know the gymternet has feelings." We sure do. Thanks for letting us do this, Courtney!
Pre-meet
Russia drama! (Because of course.) Produnova is pulled from the final in favor of Zamolodchikova. Jessica doesn't have feelings about it at all. 

Watch along with us here 

competition video

NBC's fluff and obsession with father figures and male influence. (See: The Fluff Cast.)
The vault is probably fine.
This trash competition
Why the meet was cursed right from the start.

Several minutes discussing Kristen Maloney's shiny silver leotard, because of deep and important thoughts.

Elise Ray's SCARIEST vault warmup of all time.
Why did some people struggle with the low vault and others not? We have theories.
KHORKINA and the difference between artistry, elegance, carriage, and actual execution.
Maria Olaru, how she's basically treated like garbage, and NBC's super inappropriate comments.
Jessica and Spencer disagree about a certain vault and whether it's hideous or not.
The improvement in Chinese floor routines from 1996 to 2000.
Elise Ray doing all three Rays in one bars routine.
Why Viktoria Karpenko is one of the greatest gymnasts ever to live.
The vault
Extensive feelings about what SHOULD have happened when the problem on vault was discovered, and why what actually happened was very, very wrong.

Should the entire meet have been redone?
Should everyone have been made to vault again?
How do we account for people making other mistakes after vault?

Are there any actual, better rules in place should this situation happen again?
Khorkina's post-vault bars routine and whether the vault issue made her fall on bars.
One woman with the scariest job in the entire world.
The meet continues
Yang Yun's beautiful foot-ography and a very rare, very special Spencer Rage-o-Meter about Al's racist floor music comments.
Everyone who's leading has to collapse Part 7: Yelena Zamolodchikova.
The most bizarre score of the entire meet (spoiler alert: it's a Romanian bars routine).
Everyone who's leading has to collapse Part 8: Viktoria Karpenko.
Al rooting for Lisa Skinner to chuck a dangerous vault she's never done before.
Andreea Raducan's glory rising to the top above this trash heap.
The aftermath
Andreea Raducan stripped of her medal for testing positive for a substance found in cough medicine that is no longer even banned.
Whether we recognize the stripping of Raducan's medal. (We don't).
In 2010, Dong Fangxiao was found to have been underage and her results nullified.
The ridiculous inconsistency in the application of age rules.
The big question
If the vault had been set correctly, who would have been on the podium?
HELLO FRESH
This episode is brought to you by Hello Fresh! Visit hellofresh.com and use promo code "Gymcastic30" to save $30 off your first week of deliveries.
SUPPORT THE SHOW
RELATED EPISODES
MORE WAYS TO LISTEN