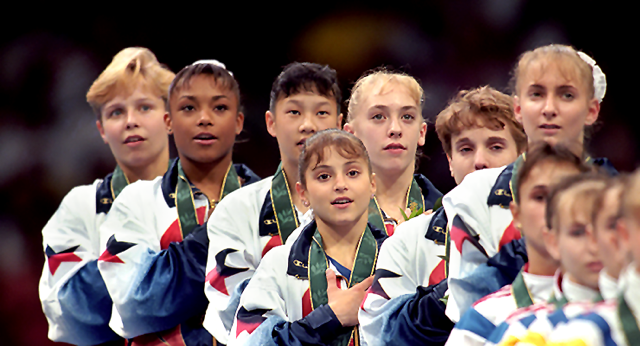 LISTEN HERE

This week, we have another very special commissioned episode for you to sink your ears into. Loyal Club Gym Nerd member Robin helped support the show by asking us to talk about everyone's favorite competition, the meet that launched a million gym nerds, and probably the most important moment in the entire history of sports, the 1996 OLYMPIC WOMEN'S TEAM FINAL! Thank you so much, Robin!
Olympic Trials Drama! (6:24)

Compulsive gym hopping
Miller and Moceanu injury petitions
All those heartbreaks (Kulikowski! Jennie Thompson! Kristy Powell!)

JUICY, JUICY 1996 FLUFF (15:59)

"Little girls dancing for gold" (Jessica has some feelings)
Romania apparently training inside Dracula's castle
"Just Shannon" and Shannon's epic snapback
Racist propaganda fluff about Mo Huilan
Putting Dominique Moceanu on a seesaw for some reason

The competition (35:40)

The important debate: who's better, John Tesh or Al Trautwig?
How unbelievably super awesome the US team was on bars
Romania's endless injury drama
Karolyi legs and form nostalgia
What we think every time we see the Moceanu parents
Deep thoughts about Geza Pozar floor routines
Why Svetlana Khorkina is better than all of us in every way

THE VAULT HEARD ROUND THE WORLD 

A second-by-second breakdown of the Kerri Strug vaults
The Strug parents (clap clap clap, chop chop chop)
What Bela said to Kerri after her vault
Did she actually do it on one leg?
Should Kerri have been allowed to vault again when the US would have won anyway? (1:40:49)
Was Russia not able to hear the floor music? Did it matter?
The worst, most unprofessional, unsafe scene you've ever seen

The GALA

 (1:47:54)

The

US group dance

to the YMCA and the Macarena. It happened.
The biggest cheer than anyone has ever received
Sexy Alexei's pommel horse
Khorkina's epic bars dismount

Fairytale endings! (1:52:33)
RELATED LINKS
SUPPORT THE SHOW
Join Club Gym Nerd here with brand new membership tiers, commission your own episode, or commission your own segment.
Buy some of our awesome merchandise here.
GYMCASTIC LEOTARD CONTEST
WHAT: A GymCastic crystal logo leotard, custom made to fit by Rebecca's Moms Leotards
HOW TO ENTER: Tell us who would you want to compete against in your custom-made GymCastic leo. Tag @GymCasitc and @RebeccasMomLeo on Twitter or  Instagram
DEADLINE: Sunday, June 25th. Random Winner announced last podcast in June on the 28th
RELATED EPISODES
MORE WAYS TO LISTEN