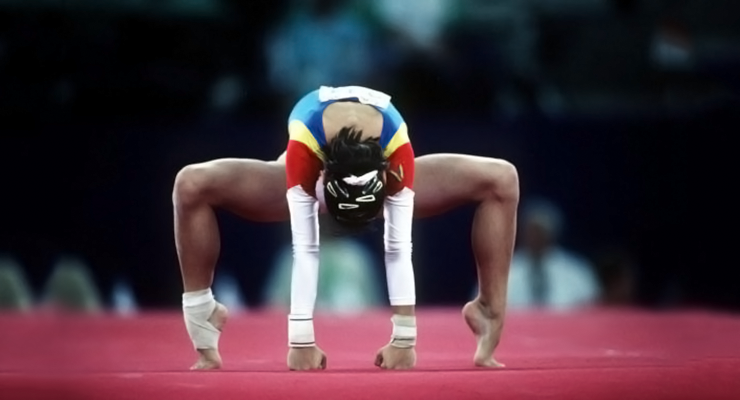 LISTEN HERE
COMMISSIONED EPISODE
This week's episode is brought to you by Club Gym Nerd members: Nicole Langevin of Precision Choreography, Rebecca W., Alison S. Allison B., Mary Anne M., and Suzanne M. 
 Uncle Tim, Spencer,  Jessica and very special guest, 1992 U.S. Olympic medalist, Wendy Bruce Martin chat about the 1992 Olympics Games in Barcelona:
The pre-Olympic Climate:

How the end of the Cold War shaped the Games

The media pressure on Kim Zmeskal and the heartbreaking life of Svetlana Boginkaya after the 1988 Olympics.

Kim Kelly and the shadiest U.S. Olympic Team selection of all time. (6:00)

Wedgie-gate, was it fair to punish three athletes for ill-fitting leotards? (16:00)

Uncle Tim's 1992 Code of Points and Competition Rules Quiz-Mageddon! (23:00)

The magic of the 1992 broadcast that included interviews with every controversial figure.

The Competition (42:00):

Compulsories that took our breath away and should we still have them? Exhibit A: 

Vanda Hădărean

(ROM) or

Gruneneva

(

Unified Team). Eastern Bloc beauty. 

The judging crack epidemic of 1992. Exhibit B: Christina Bontas's 9.

9 beam routine.

Kim Zmeskal fell on beam and the world didn't actually end. 

The glory of North Korea,

 Kim Gwang Suk 

on bars. All praise the dear leader. 

Team Finals (1:02:00)

Kerri Strug's family fashion. 

The Karolyi double back set on beam, AKA freeze in mid-air before flip. 

U.S. and Australian leotards. 

Why Wendy felt embarrassed of her bronze medal for too long. 

The All-Around Final (1:16:00)

Galieva-Gate

The most common skills of the quad and the routines that were way ahead of their time, like Tatiana Lysenko (Unified). 

Luisa Portocarrera (CAN/GTM), beam goddess. Watch it

here.

Shannon Miller vs. Tatiana Gutsu showdown. Was the judging fair? We decide. (1:26:00)

Event Finals (1:29:19)

Tatiana Lysenko's double twisting yurchenko vs. the world; the 1992 vault final. 
The Beam Final: 

Li Lu –

press handstand to HEALY to arch pose!

Pour out some Yang Bo. Lysenko's backspin, Shannon Miller. One of the greatest beam finals of all time. 

The Bars Final: The bars medalists got air on the bars that were super close together. Lu Li got mega air and 

Kim Gwang Suk – TKATCHEV TO COUNTER KIM! WHAT?!

The Floor Final:

Lavinia Milosovici's Romanian tumbling greatness, Henrietta Onodi's triple full, Gutsu's split leg double layout, so much genius!

Shenanigans and the Legacy of the 1992 Olympics (1:43:05)

Steve Nunno's motivational poster quotes. 

Bela Karolyi or Donald Trump quotes quiz. 

The training schedule for the U.S. Team. Yes, two-a-day practices. 

The new breed of positive coaches. (1:51:53)
RELATED LINKS
Check out Wendy Bruce Martin's company

Get Psyched

for mental catching or her blog that we love

 here.

Claudia Miller (Shannon Miller's mom), wrote a book called, "My Child My Hero." A gym nerd must-read.

Here is that Australian team 1992 compulsories leotard

Australia aboriginal (?) inspired 1992 compulsory leotard
SUPPORT THE SHOW
Join Club Gym Nerd here or commission your own episode. 
Buy one of our awesome shirts here.
RELATED EPISODES
MORE WAYS TO LISTEN