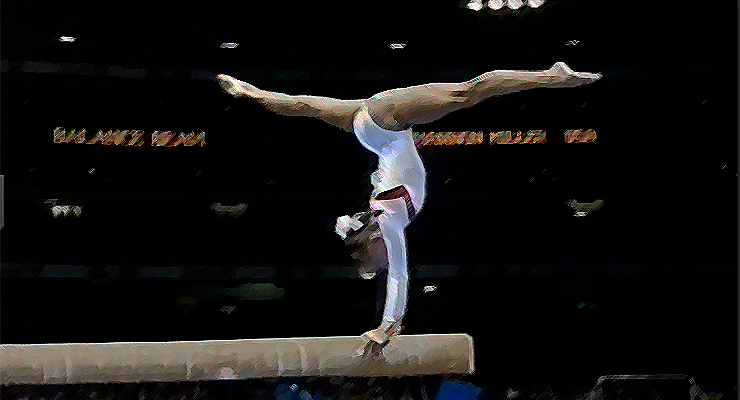 LISTEN HERE

This week, we bring you the final installment in our epic 1996 Olympics TRILOGY: the event finals. This episode is brought to you by Club Gym Nerd member Kris (who also commissioned the 1996 all-around final because of legendary status—the rest of us could never), who thought it only fitting that we leave no stone unturned and no competition un-dissected when it comes to the glory and wonder and pageantry of the 1996 Olympics. Correct. Thank you for supporting the show, Kris!    
You can watch the 1996 Event Finals along with us here.
CONTEST
WHAT: #BeerWithBetty: The Greatest Scavenger Hunt in the Galaxy!
PRIZE: The winner will share a beer (or root beer if you are under 21) with the great Betty Okino, Olympic and World medalist, creator of the triple turn on beam, and a member of the Precision Choreography team.
WHEN: The hunt will start at 8am on Thursday August 17 and will end at 12pm on Saturday, August 19. The winner will meet with the Betty Okino at 3pm in Anaheim on August 19th! If you enter, be READY FOR BETTY because winner will meet this gymnastics legend at 3pm that day!
HOW IT WORKS: Your mission will be to complete each of the following tasks and post a photo or video to Twitter or Instagram tagging @GymCastic and @PrecisionChoreo using #BeerWithBetty:
Man Wipe
Pose in front and of P&G Championships sign. The more ridiculous your interpretation of poses on the sign the better!
A coach watching bars (or any routine) with head tilted to the side
Someone casually waiting in line in wolf turn position
Pretend to mount a piece  of non-gymnastics equipment mouthing "I got this" a la Laurie Hernandez
Find mustached person (doesn't have to be real) and recreate Bela carrying Kerri. (Precision will choreograph a free beam routine for anyone who does this with Steve Nunno playing the part of Bela)
5 folks strumming tummy guitar a la Boguinskaya's 1989 FX routine
A leotard that needs a seizure warning
Simone's ending pose amongst a group of unsuspecting people
Gather 10+ people to do their best gymnastics salute (Bonus for college style)
The winner will be selected at random among everyone who completes all ten items.
PLUS: We will give six additional prizes for Most Outrageous photos! The top three most outrageous photos on Friday will win a personal voice message from one of Precision Choreography's gymnastics stars (people like Chellsie Memmel, Alicia Sacramone, Houry Gerbesian, and Holly Vise)! The top three on Saturday will get a special shout-out on the GymCastic podcast.
SUPPORT THE SHOW
Join Club Gym Nerd here with brand new membership tiers, commission your own episode, or commission your own segment.
Buy some of our awesome merchandise here.
RELATED EPISODES
MORE WAYS TO LISTEN