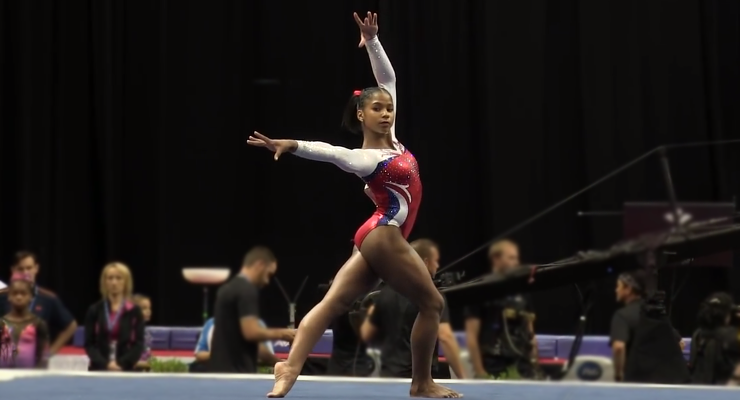 LISTEN HERE
MEET NEWS
Lauren, Jessica, and Spencer preview this weekend's U.S. Classic!
How to watch

Juniors (3:30)
Seniors (27:23)

New seniors we're most excited to see at Classic, including Morgan Hurd, Jordan Chiles, and Trinity Thomas.
Gymnasts who are going to surprise the pants off everyone and win all the things

Sleeper workhorse Elena Arenas and her fantastic bars
The long-missing Marissa Oakley and her triumphant return
The newly upgraded Marz Frazier
Kayla-Williams-2017-edition, Jade Carey

Routines you are ABSOLUTELY NOT ALLOWED TO MISS UNDER ANY CIRCUMSTANCES
GYMTERNET NEWS (53:15)
By popular demand, Spencer and Lauren literally fight to the death about the

Canadian worlds team: Ellie Black, Isabela Onyshko, Shallon Olsen, Brooklyn Moors.

Norah Flatley retires from elite. She plans to drop to L10 and then go to UCLA.

Christina Desiderio is going to LSU this year.

Cuba is going to worlds after all!!!!! The team will be Manrique Larduet, Randy Leru, Yesenia Ferrera, and Marcia Videaux.


Lieke Wevers is working on a

Erceg

mount! Her sister, Olympic BB champ Sanne, is working on an Onodi mount.


Adrian Stoica

will not run for another term as head of Romanian federation. But guess who is being put forward as a possible replacement…ANDREEA RADUCAN.

Lauren previews all the D'Amato twins and other juniors we need to know about competing at the European Youth Olympic Festival this week. Watch live here
An item-by-item dissection of screenshots from the WEIRDEST FREAKING GYMNASTICS APP in the known universe. (1:17:33)
 But really, WHAT THE MOTHER OF CRAP IS THIS THING?!?!?
And last, but certainly not least, we read the best letter we've ever, ever, ever received. It should hang in the Smithsonian.
HOW TO USE A VPN
You'll need a Virtual Private Network (VPN) to watch coverage outside of your country. Our listeners recommend TunnelBear, Hola, ZenMate and GetUsVPN. For the best breakdown and full understanding of each VPN service, consult That One Privacy's Guy's VPN website here.
How to use a VPN: Set your VPN's country to the same country as the broadcast you want to watch. For example, set your country to England or Ireland to watch the BBC broadcast. If you are in Italy and want watch NBC. Set your country to USA.
GIVEAWAY
Thanks to the good people at Norbert's, we're giving away a beam!
It's a 4-foot long sectional beam, valued at $79, covered with beam suede and filled with solid (but very light weight) crosslink foam, perfect for learning those jump or acro skills that might be a little ouchy to try for the first time on the hard beam.
This giveaway is for Club Gym Nerd members ONLY. Just enter by email at gymcastic@gmail.com with the subject line "I WANT THE NORBERT'S BEAM." You just may be the lucky winner selected at random.
In honor of the month of July, Norbert's also has a red, white, and blue folding panel mat for just $150, shipping included.
CONTEST
WHAT: #BeerWithBetty: The Greatest Scavenger Hunt in the Galaxy!
PRIZE: The winner will share a beer (or root beer if you are under 21) with the great Betty Okino, Olympic and World medalist, creator of the triple turn on beam, and a member of the Precision Choreography team.
HOW IT WORKS: In August, we will release a list of 10 items on this photo scavenger hunt. Your mission will be to complete each one and post a photo to Twitter or Instagram tagging @GymCastic and @PrecisionChoreo and using #BeerWithBetty. The winner will be selected at random among everyone who completes all ten items. The hunt will start at 8am on Thursday August 17 and will end at 12pm on Saturday, August 19. The winner will meet with the Betty Okino at 3pm in Anaheim on August 19th! If you enter, be READY FOR BETTY because winner will meet this gymnastics legend at 3pm that day!
PLUS: We will give six additional prizes for Most Outrageous photos! The top three most outrageous photos on Friday will win a personal voice message from one of Precision Choreography's gymnastics stars (people like Chellsie Memmel, Alicia Sacramone, Houry Gerbesian, and Holly Vise)! The top three on Saturday will get a special shout-out on the GymCastic podcast.
BUT WAIT: Before this contest starts, we need your help coming up with the scavenger hunt list! Please tweet us your suggestions using #BeerWithBetty from now until July 31. Ryan on twitter is already owning the suggestion game.
SUPPORT THE SHOW
Join Club Gym Nerd here with brand new membership tiers, commission your own episode, or commission your own segment.
Buy some of our awesome merchandise here.
RELATED EPISODES
MORE WAYS TO LISTEN