This week Uncle Tim and Jessica discuss the Pan American Games Event Finals with 2004 Olympic floor champion and CBC analyst Kyle Shewfelt!
Gym Myth Busters: We found out, straight from the men's FIG Technical Committee President, if Manrique Larduet (CUB) was deducted for excessive celebration after his parallel bars routine in qualifying.
We had to know Kyle's opinion: should the men's all-around final have gone to Manrique instead of Sam Mikulak (USA)?
Why Canada, Cuba and Flavia Lopez Saraiva (BRA) stole the show in Toronto.
The Out of Bounds Championship floor final, a first of it's kind.
Kyle and our listeners came up with the solution the Yamilet Peña (DOM) and the Produnova of Death vault situation. Nellie Kim, now hear this!
Why Daniele Hypolito (BRA) is a hero and true sportsman (even after being robbed of a bronze in the vault final).
Why Rachel Gowey (USA),  Jessica Lopez (VEN) and Amelia Hundley's (USA) floaty bars made us smile.
Ellie Black (CAN) told Kyle Shewfelt why she was able to achieve to her highest potential during the most pressure packed final of the competition: beam.
Ana Sofía Gómez Porras (GUA) finally redeemed herself on the floor, but she presented a text book example of why a gymnast should never tumble with hands side by side on beam!
How difficult is the full-in off the end of the parallel bars, done by Jossimar Calvo (COL), compared to a double-tuck off of the side; Kyle weighs in.

Our weekly roundup of the latest news stories from around the gymternet include:
A preview of the Secret Classic: from college elite Brenna Dowell to 2011 world team gold medalist, Sabrina Vegas; to reigning Olympic champions, Aly Raisman and Gabby Douglas; it's going to be a great meet!
Does being named to a Pan Am Team hurt a gymnasts chances of being on a World or Olympic team?
Shannon Miller's coach, Steve Nunno, is back!  It's has been confirmed to a fan website first; congratulations Full Twist! Emily Gaskins (AKA Baby Podkopayeva) of Intensity Gymnastics in Florida, is being coached by Steve Nunno and Romanian Olympic gold medalist, Lavinia Agache.  We discuss the implications–at length!
Plus, rhinestones, not just for facial injuries anymore.

If you want to hear Kyle Shewfelt's analysis of the Pan Am Games, download the CBC Sports App for streaming replays, available on Android and Apple.
Check out Kyle Shewfelt Gymnastics, it is a marvel; from business plan to layout and function, it needs to be the centerfold of a gymnastics school design and business magazine. They have acrobatics, adult gymnastics classes, rhythmic, tumbling, trampoline, gymnastics cross training, yoga, Gymsanity, Warrior Gymnastics (What is this? We want to do it!) and parkour. If the GymCastic headquarters were in Calgary, we'd live at Kyle's gym.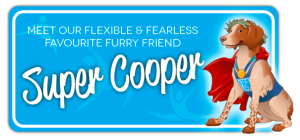 Secret Classic coverage begins on Friday with live podium training here or USA Gymnastics YouTube Channel. The senior competition will be on Universal Sports. If you aren't in the US and are having trouble with access to Universal Sports, try using a VPN. Our listeners recomend TunnelBear, Hola, ZenMate and GetUsVPN.