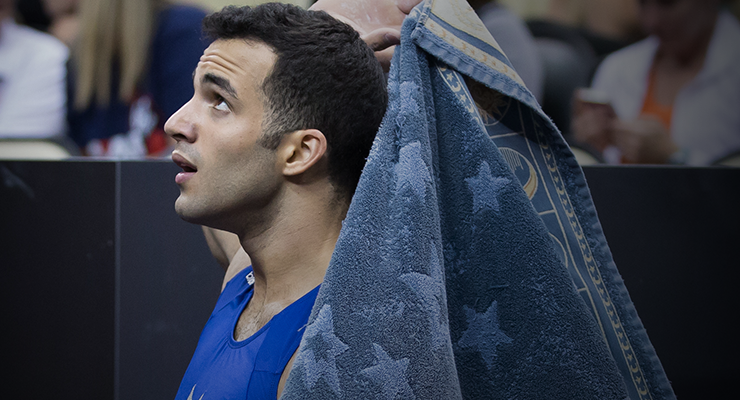 The artist, Danell Leyva joins us this week. Known for his flair on every event, he also stands out as a staunch nonconformist. Revealing photos of Danell were tweeted during the London Olympics. He was nonplused and casually took home bronze in the all-around. He was passionately opposed to the gay discrimination laws passed earlier this year in Indiana and supported his teammate, Josh Dixon in calling for an immediate change of venue for the national championships in Indianapolis. We talked on the day the FIG released the new qualification rules for the 2020 Tokyo Olympics. We discuss (please note that all time stamps in parentheses are "ish") :
Danell's transformation from passive peacemaker to playground scrapper.
Celebrities who smoked cigars in the arena during the Olympics.
The financial importance of a national team spot (34:00).
Which vaults hurt and which vaults make his body feel good.
How he has stayed surgery and medication free all these years (26:00)
Tim Daggett (16:00)
Cuban defectors at the Pan Am Games (19:00)
Gay marriage and moving the P&G Championships out of Indiana (21:00)
The Cuban-Soviet system parents, Yin and Maria implement at his gym, Universal (31:00).
Conspiracy theories and growing up Cuban (42:00)
Photo scandal and why it wasn't a big deal (48:00)
What he thinks of Oleg Vernaiev, Epke Wonderland and Paul Hamm as a coach (1:00:00).
The back injury that almost took him out of the Nanning event finals (1:04:00)
What made him instantly get over his infamous face smashing high bar routine that took an all-around world championship away from him in 2011 (1:10:00).
His childhood as the kid a) who couldn't jump and b) was always walking directly in front of someone mid-flip (1:17:00)
Why Yeessooo had to become a catchphrase before Yin's reputation was ruined forever (1:22:00).
Why his mom, Maria, said he'd be fat or in jail if it wasn't for gymnastics.
His brief history as a pacific turned playground street fighter (1:33:00).
The real reason for the brief downfall of his gymnastics after the 2012 Olympics and his relationship status (1:37:00).
The new FIG Rules allowing four member teams plus two individual event specialists from qualifying countries.
How the new rules will change his strategy going into World Cup competition.