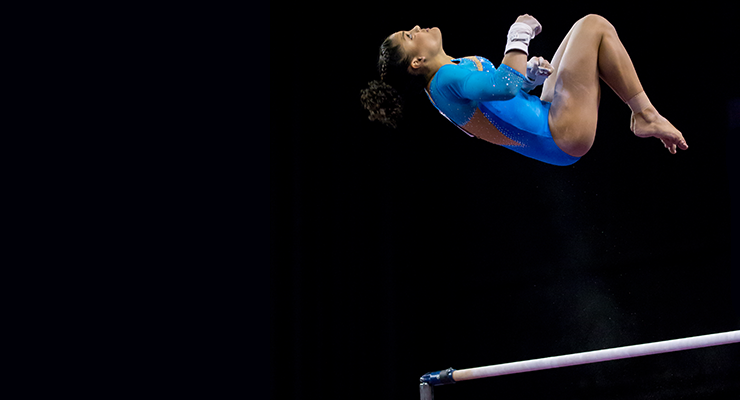 This week on the podcast, a full recap of the Secret U.S. Classic from glorious Chicago suburbs.  Uncle Tim, Lauren, and Jessica chat about the best upgrades, moments, skills and routines, including:
Scoring: don't get too excited, there was a stick bonus in place.
Text book bars that made our hearts sing:  Madison Kocian, Brenna Dowell and Laurie "Baby Shakira" Hernandez.
Injuries that took some out and others down:  Norah Flatly, Marissa Okaely and Kyla Ross.
Which 2000 Babies (also known as juniors who will turn 16 in the Olympic year) will be a major threat for the 2016 Olympic team. Yes, this means we talked all about Ragan "Fievel" Smith.
Ashton Locklear and the Mystery of the Zero Scores solved!
Bailie Key's premier meet as a senior gymnast! Finally!
Brenna Dowell had a rough day with a terrifying beam fall, but we loved her toe-on tkatchev caught in mixed grip to Ezhova! Will this help or hurt her chances of making the World team?
Let's play a game called "What did Skinner's floor music sound like to you?"
Simone Bile's new floor routine (spoiler alert, we loved it!); will Laurie Hernandez and Simone start a new trend in elite floor?
What's next for Emily Gaskins and Steve Nunno. Maybe he was too calm and that's what hurt her performance.
Gabby Douglas, her competitive excellence, Russian-style podium training, future upgrades and clarifying gymnastics facts for those you didn't know that she meant American Olympic history when she said,"No one has ever done it before."
Aly Raisman looked gutted after her mistiming on floor led to a fall, but we saw big improvements from her.
Our favorite moments: Abby Paulson's aerial layout series on beam; Trinity Thomas being adopted by Lauren; Maggie Nichols owning the podium; Polina Shchennikova's bars; Simone and her team flying on a private jet; Kaitlin deGuzman's toe point; Deanne Soza, Deanne Soza and DEANNE SOZA!
Uncle Tim rages out over Felicia Hano's vault injury.

Our weekly roundup of the latest news stories from around the gymternet include:
Marta's retirement announcement and our speculation about her replacement.
Shawn Johnson got engaged to NFL player Andrew East on a baseball field, but we tell you how we could have proposed to her in a much more gymnastics-appropriate way.
The Canadian pop star who is named after Nelli Kim
USA Gymnastics President, Steve Penny, awkwardly interviewing Simone Biles.
We got a letter from a listener who told us all about training with Steve Penny and Peggy Liddick during the Shannon Miller era at Dynamo in Oklahoma!

The Gymternet's best moments from podium training, complete with Gifs!
Two women have repeated as the Olympic all-around champion in back to back Olympic Games, Larisa Latynina of Soviet Union in 1956 and 1960, and Vera Caslavaka of Czechoslovakia in 64 and 68. No American all-around gold medalist (we've only had four ever!), has ever made a second Olympic team; only one has even officlally tried, Nastia Liukin, by competing at the Olympic Trials. It's pretty common to make another Olympic team. Four Olympic all-around gold medalists have made a second Olympic team after winning all-around good: Larisa Latynina, Věra Čáslavská, Ludmilla Tourischeva, and Nadia Comăneci.