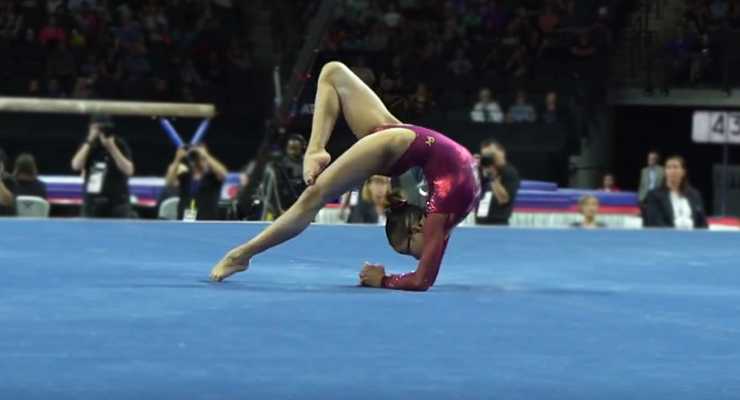 LISTEN HERE
U.S. CLASSIC
Spencer, Lauren, and Jessica discuss everything important and unimportant that happened at Saturday's U.S. Classic.
JUNIORS

Our favorite, favorite, favorite future presidents
Surprises who rocked our worlds
Moments of the meet

Lauren's inside scoops from the Hopes competition, including the girl who threw off her crutches and tried to do a bars routine and the newborn baby who will soon rule us all on beam.
Want to commission a mini-discussion? Club Gym Nerd members can do just that! We'll answer your burning questions or passionately discuss your favorite topics, anything and everything even tangentially gymnastics related.
This week, a loyal Club Gym Nerd member asked us to talk about the National Gymnastics Congress in Anaheim this year: whether it's scary (it isn't!), how to act, what to do, and the best way to get the most out of the experience.
Plus, a bonus discussion featuring our definitely expert and unimpeachable advice on how to handle conflict in the workplace!
SENIORS

Jessica is NOT HAPPY about gymnasts being allowed to pass compulsories and compete elite when they don't have the foundation to compete safely.
The big winners of the meet
Gymnasts that made us burst into a standing ovation
We give out the Simone Biles 2013, Classic Doesn't Really Matter awards
Major trends we noticed in routine composition and judges doing their job
GYMTERNET NEWS
Russia repeats as champions at EYOF (European Youth Olympic Festival)
The Olympics are coming to LA in 2028. Yea or Nay? We discuss.
The FIG Executive Committee announced the JUNIOR WORLD CHAMPIONSHIP

How many people should be on each team? And is it 50?

That video of Simone getting her wisdom teeth out. We translate.
There's going to be a SIMONE BIOPIC. Memo to producers: we've already cast all the parts.
GIVEAWAY
The winner of the Norbert's sectional beam  is Laura Dahlin! Thanks so much to Laura and to Norbert's for supporting the show!
CONTEST
WHAT: #BeerWithBetty: The Greatest Scavenger Hunt in the Galaxy!
PRIZE: The winner will share a beer (or root beer if you are under 21) with the great Betty Okino, Olympic and World medalist, creator of the triple turn on beam, and a member of the Precision Choreography team.
HOW IT WORKS: In August, we will release a list of 10 items on this photo scavenger hunt. Your mission will be to complete each one and post a photo to Twitter or Instagram tagging @GymCastic and @PrecisionChoreo and using #BeerWithBetty. The winner will be selected at random among everyone who completes all ten items. The hunt will start at 8am on Thursday August 17 and will end at 12pm on Saturday, August 19. The winner will meet with the Betty Okino at 3pm in Anaheim on August 19th! If you enter, be READY FOR BETTY because winner will meet this gymnastics legend at 3pm that day!
PLUS: We will give six additional prizes for Most Outrageous photos! The top three most outrageous photos on Friday will win a personal voice message from one of Precision Choreography's gymnastics stars (people like Chellsie Memmel, Alicia Sacramone, Houry Gerbesian, and Holly Vise)! The top three on Saturday will get a special shout-out on the GymCastic podcast.
SUPPORT THE SHOW
Join Club Gym Nerd here with brand new membership tiers, commission your own episode, or commission your own segment.
Buy some of our awesome merchandise here.
RELATED EPISODES
MORE WAYS TO LISTEN