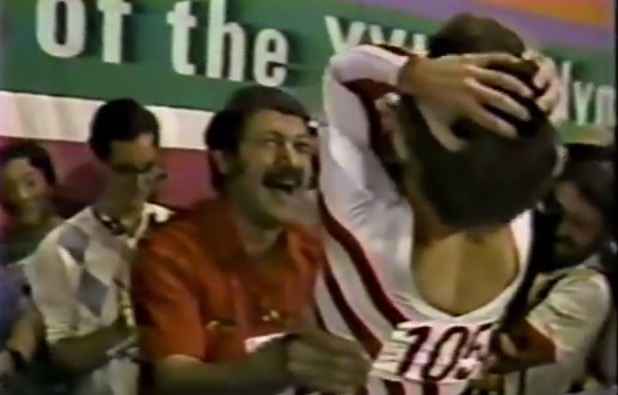 LISTEN HERE

This week's episode is commissioned by Club Gym Nerd member Beth, who commissioned a sequel to our first show all about the biggest myths, legends, and unexpected moments in gymnastics history because there were just too many to pack into a single episode the first time around. Thank you for letting us do this, Beth!
But first, Jessica's greatest dream has FINALLY come true in this week's Club Gym Nerd episode dedication!!!! EEEEEEEEEEEEEEEEEEEEEEEEE x100000000.
MYTHS AND LEGENDS
Myth Un-Busted??? The latest, secret information about Soviet pregnancy doping

Is there really a real-life skill called the Miller? Or did NBC lie to us? (BOTH!)
Did Verona van de Leur really leave gymnastics to become a porn star?

Bonus: More gymnastics nudity "scandals" than you ever wanted to know about!

Did Title IX really kill men's college gymnastics?
Is there really such a thing as the international look? Or did NBC lie to us?
Did Armine Barutyan really do a double layout beam dismount?
Is the American Cup really the SCAMerican Cup?
Will she really "never get those scores internationally"?
Did a Soviet gymnast's tampon really fall out during her floor routine?
Did Cristina Bontas's saliva really make Yang Bo fall in the 1992 beam final?
UNEXPECTED MOMENTS
When the pommel breaks off in your hand
When Bela was so obsessed with pissing off Ellen Berger that he almost costs Mary Lou her gold medal

Bonus: Which barnyard animal did Bela compare Ellen Berger to in 1988?

The many (many) (many) fractures of the 1992 Olympic team
Dominique Moceanu gets emancipated from her parents, and her dad hires a hit man to kill her coach
Gymnastics in the bath?
The magical changing age of Hong Su Jong
TUMBL TRAK GIVEAWAY
Whether a gymnast from birth or starting at age 50, a handstand is something most gymnastics enthusiasts have at least tried. Send in your story of a funny or embarrassing handstand moment (the more embarrassing the better), and you could win a $200 Tumbl Trak gift certificate!
Open to Club Gym Nerd members only
Deadline: December 3rd
Send your story to gymcastic@gmail.com with the subject line: Tumbl Trak Handstand Story
The person with the funniest or most hilariously embarrassing handstand story will be chosen as the winner
HELLO FRESH
This episode is brought to you by Hello Fresh! Visit hellofresh.com and use promo code "Gymcastic30" to save $30 off your first week of deliveries.
SUPPORT THE SHOW
RELATED EPISODES
MORE WAYS TO LISTEN