LISTEN HERE
DOHA WORLDS: DAY THREE WOMEN'S PRELIMS
Spencer, and Jessica  chat about the results of the final day of women's prelims at the 2018 Doha Artistic Gymnastics World Championships:
The team final is set. We discuss: US, Russia rough vault, will they bring in the alternate? China lots of room for improvement but TingTing and Zhang made beam finals.  Canada were all Ellie Black and fantastic. Brazil won the leo competition and hit like beasts.  Japan still hanging in for finals. France and Melanie de Jesus Dos Santos. Germany and their killer bars.
Which event final is going to be the most competitive. Hint IT'S BARS.
Why new Romania is Jessica's new favorite Romanian team ever.
Brooklyn Moors is in floor finals so the completion is legitimate.
The latest from behind the scenes and things women can get arrested for in Qatar.
FURTHER READING
SUPPORT THE SHOW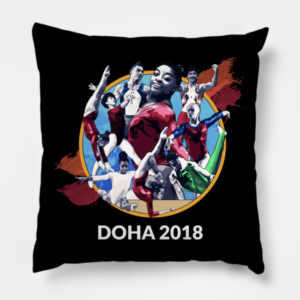 RELATED EPISODES
MORE WAYS TO LISTEN