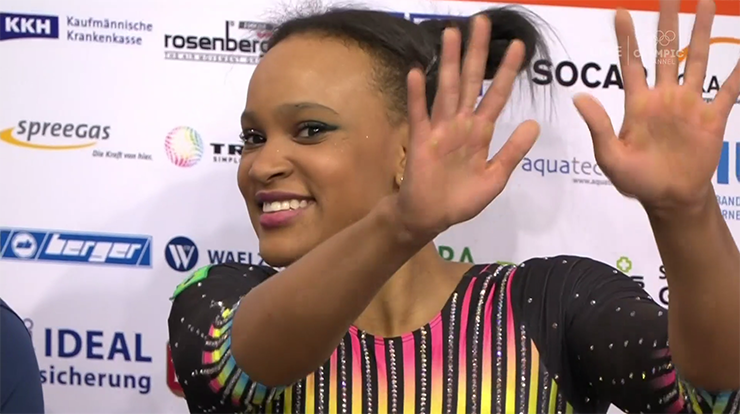 LISTEN HERE
THIS WEEK 
(1:30)
First, Scott Bregman of the Olympic Channel joins us to talk about his fantastic interviews with Simone Biles and John Orozco and handle Jessica's request for a naked interview with a bunch of Japanese men, or something
IN THE NEWS (19:50)
We discuss what we learned about THE DOCUMENTS from Scott Reid's report on the depositions in Aly's lawsuit against USAG and the USOC – it ain't good.

The FIG Congress approved creating a Gymnastics Ethics Foundation — is this anything?

The FIG has proposed changes in the way athletes qualify for worlds — we like!

The USAG board has a new chairwoman – is there a secret golf cabal we should know about?

Lou Anna Simon has been charged with lying to police – oh, that's too bad.

Alex Naddour has been removed from the suspended members list.
COTTBUS (56:50)
Jessica's thoughts on the crowd, swimming naked in Germany, Milad Karimi's crib, white boards, and genetically modified Ukrainians

Spencer jabbers endlessly about the Olympic qualification points rules, what this means for 2020 (not so much yet) and Jade Carey's strategy

The Rebeca Andrade Cup – THAT DTY YOU GUYS
The beam final was a mess, but Flavia got 2nd even with a fall because perfection
Marta Pihan-Kulesza has brought back her Pink Panther routine, and it was AH-MAH-ZING

Pros and Cons of how the Olympic rules have changed the apparatus world cup

Pros: This is the most we've ever cared about an apparatus world cup

Cons: Some of these finals were better than worlds: Cough, cough MIYACHI
UNCLE TIM ALERT (14:34)
Uncle Tim attended Cirque's show Volta and has an extra special review for us 
SUPPORT THE SHOW
Join Club Gym Nerd here.
Buy our awesome clothing and gifts here. December 18th is the last day to order and get your goodies by Christmas! And we have themed albums!
The 2018 Gymcastic Gift Guide is here!
FURTHER READING
RELATED EPISODES
MORE WAYS TO LISTEN