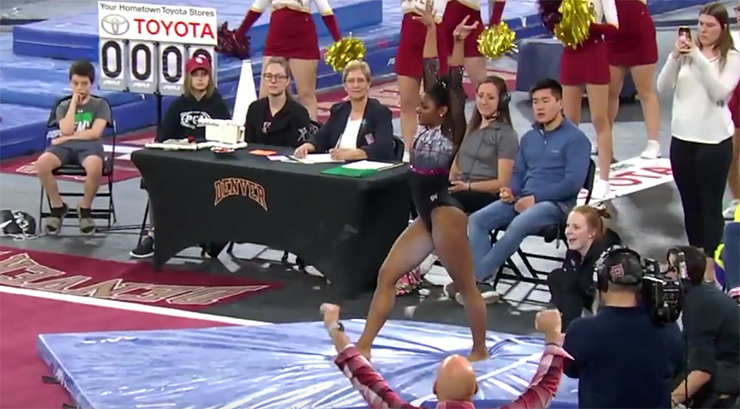 LISTEN HERE
MEET NEWS
It's a party! Jessica and Spencer are joined by Kensley AND Evan to discuss all of the many, many (many) gymnastics-related events of the past week. 
WOGA Classic (1:18): Kensley was there and discusses Ashton Locklear's return, the Blakelys, and the presence of the entire Brazilian women's team

NCAA news (6:38)

How the mid-season blues affected LSU, Georgia, and apparently shorted out live stream and live score capabilities across the country

The bars drama at Denver and why Brenna Dowell did not compete

Evan needs you to know that if you're not Lynnzee Brown's double layout, you're doing it wrong

George Washington's best meet promotion ever

Trinity Thomas is too perfect for this code

Nebraska's entirely non-pusillanimous vault rotation, and the floor-side throne that brought out peak-narcissism Spencer

The worst commentary disasters of the weekend

Why Missy Marlowe and Jenny Hansen reigned as heroes

Crack or correct—10s edition (56:45)

Mini-commission – the "bubble" teams (1:29:38)

A mini-commission from Mohini Bhardwaj Forever has us profiling the bubble teams for regionals qualification like Utah State, North Carolina, Bowling Green, and UIC, plus thoughts on the new play-in format for NCAA postseason competition (spoiler alert: we likey)
GYMTERNET NEWS (1:43:30)
Related: Maile O'Keefe is heading to Utah a year early and competed L10 in Las Vegas this weekend

Larisa Iordache has been 

cleared

to return to training, and guess who's out of retirement (again) to coach her. 

A rundown of the latest DUMPSTER FIRE news (it's a dumpster fire)

Katelyn Ohashi was on

Busy Tonight

and Jessica

has feelings about it. Plus, Ohashi's parents gave great quote in the Seattle Times. 
It was Svetlana Boginskaya's birthday, so celebrate by listening to our 2015 interview with her.
FURTHER READING
SUPPORT THE SHOW
RELATED EPISODES
MORE WAYS TO LISTEN