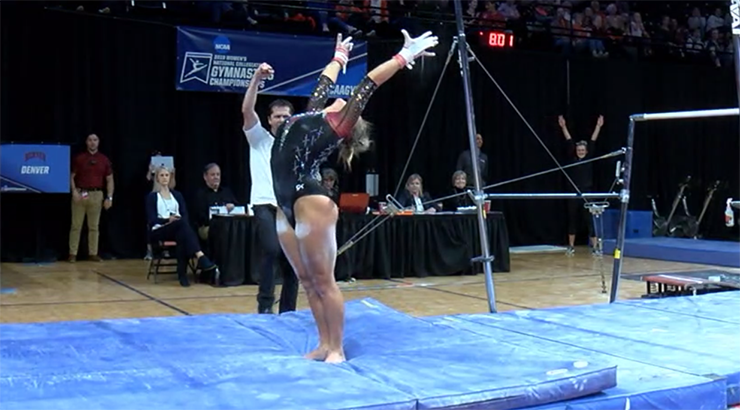 LISTEN HERE
LIVE SHOW TICKETS ON SALE NOW!
Remember: Tickets to our live show from NCAA nationals—the Flipping Four After Party presented by Tumbl Trak —are on sale now, and there are only 15 left! Get 'em while they exist.
TICKET GIVEAWAY: Plus, we're giving away 2 pairs of tickets!
How to enter: Finish this sentence on Twitter or Instagram: "If I were in charge of the college code I would…." including #JudgeMeChellsie #GymCasticLive and tagging @MyGymJudge.
Deadline: Sunday, April 14th at midnight (PST).
Grand Prize: At the live show, the two ticket winners (or their selected representatives) will do a Memmel impression-off to win the grand prize—a My Gym Judge session with Chellsie Memmel. Compliments of Precision Choreography.
Attendees: Make sure to go straight to the event after the Flipping Four to put your name in for the amazing giveaways.
NCAA REGIONALS (9:20)
It all went to plan…until it didn't

Oregon State 

A forensic investigation, with historical reference points, of the Florida beam disaster and elimination

Artistic gymnastics alert: Denver coach Linas Gaveika's bars performance

Oregon State's magical beam levitation, and How To Give Birth Under a Double Layout: The Regional

LSU

Brace yourself: MyKayla Skinner fell on bars, ending a streak of 161 consecutive hit routines

Auburn's amazing semifinal performance, the injury to Sam Cerio, and the delicate politics of covering gruesome injuries—p

lus a shoutout to Ella Douglas, who had to go on floor right after that

Lexy Ramler and Ivy Lu. Done. 

Michigan

From the lack of television coverage, to this regional being behind a paywall, to the unreliable and nonexistent live scores, we have a serious access problem for regionals that needs to be fixed

Alabama is eliminated. This will be the first national championship without Alabama since 1982, the first year women existed

Kyla Ross got three more 10s, meanwhile Taylor Houchin got zero 10s, and we have a problem with that

Penn State got two individuals qualifiers to nationals and we're taking all the credit. Sorry, gymnasts

Georgia

Spencer calls for a judging intervention after this preposterous regional

Oklahoma recorded the highest road score in NCAA history, and Cal and Kentucky both set program records while being eliminated

Shoutout to Alma Kuc, Emi Watterson, and Cal's best bars rotation ever en route to the strongest performance to be eliminated from any regional final

Marissa Oakley's 10 was a thing of beauty and a joy forever, and Rachael Lukacs BROUGHT IT

Um. So. We need to talk about some leotards

Gymnasts are ninjas — regionals edition

What we still need to work on with this new regionals format, including meet timing and schedule, team distribution, and those stupid team prisons—now even stupider than ever!
TOKYO WORLD CUP (1:29:10)
Morgan Hurd won the AA title by less than a tenth over Ellie Black, proving she is a sorceress on vault and beam, while also debuting her new floor routine. We interpret. 
Ellie Black and Asuka Teramoto were on fire, though Teramoto's true meet highlight had nothing to do with gymnastics

Sam "Consistency" Mikulak hit an entire meet, including HB, to take the all-around title

Plus, Giarnni Regini-Moran beat Kenzo on floor, why we're excited to be concerned for Kenzo's safety, and while we're definitely not excited to be concerned for Bart's safety
GYMTERNET NEWS (1:40:00)
FURTHER READING
SUPPORT THE SHOW
RELATED EPISODES
MORE WAYS TO LISTEN