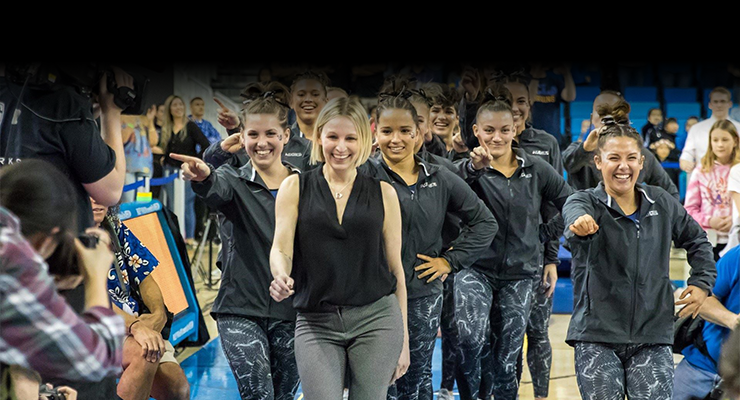 LISTEN HERE
LIVE SHOW TICKETS ON SALE NOW!
Remember: Tickets to our live show from NCAA nationals—the Flipping Four After Party presented by Tumbl Trak —are on sale. Get 'em while they're hot.
ATHLETE ASSISTANCE FUND
(2:30) The Athlete Assistance Fund has partnered with the New York Society for Prevention of Cruelty to Children to provide child sexual assault prevention training to national gymnastics programs. We discuss what the Athlete Assistance Fund is and what this partnership is going to do. We will continue to support Saving Our Survivors Fund via our store. 
COLLEGE NEWS
(10:03) The Miss Val farewell meet was as extra as you knew it would be

The Valorie Kondos Field Floor was unveiled. We have some other ideas for coach-naming tributes

Jessica tells us about what we didn't see on TV, and it involves flash mobs and ice sculptures and math problems

We've been given a challenge to talk about college meets without discussing the judging. Jessica accepts the challenge. Spencer passes.

Why that ridiculous roller coaster of a meet was the perfect tribute to Miss Val

Madison. Ward. Sessions.

But that broadcast, you guys…

Kyla got a Perfect Fall 9.500 from one judge. Has anyone ever scored a Perfect Fall before? Should it be possible?

Other college developments including Cal's program-record score of 197.575 and Bridgeport upping the game for next season in terms of celebrations
(49:53) We announce the Pac-12 Championship ticket winners.

(50:15) Regionals Watch: Who's in, who's out, and who desperately needs a score at conference championships this weekend
ELITE NEWS
(55:06) Stuttgart all-around world cup

Simone wins with "downgrades," Ana Padurariu is a dream, Elisabeth Seitz upgrades back to the DTY for the first time in forever, and Aliya's beam features wobbles on everything except her acro series because of course

Stuttgart team challenge

Brazil is coming for all your titles, and Andrade scored 56.932 (!) in the all-around

(1:02:08) Jessica provides a moment-by-moment art-historical interpretation of Eythora's brilliant beam routine

Baku

Jade Carey unleashes her Cheng upon the world and wins vault in a field that was RIDIC

Spencer breaks down the qualification rules, including what happens if two people tie for a spot, and what happens if Jade Carey wins more than one event

Floor competition brought us the BODYSUIT LEO HEARD ROUND THE WORLD

Controversy on beam: Anastasia Bachynska loses the bronze medal because her coach was on the podium. We have many problems with this.

Emma Nedov is the real deal, and Jessica and Spencer basically get a divorce while trying to compare Tingting and Li Qi.

Man-notes about high bar (eeeeee!) and the return of Yang Hakseon.
GYMTERNET NEWS
FURTHER READING
SUPPORT THE SHOW
RELATED EPISODES
MORE WAYS TO LISTEN