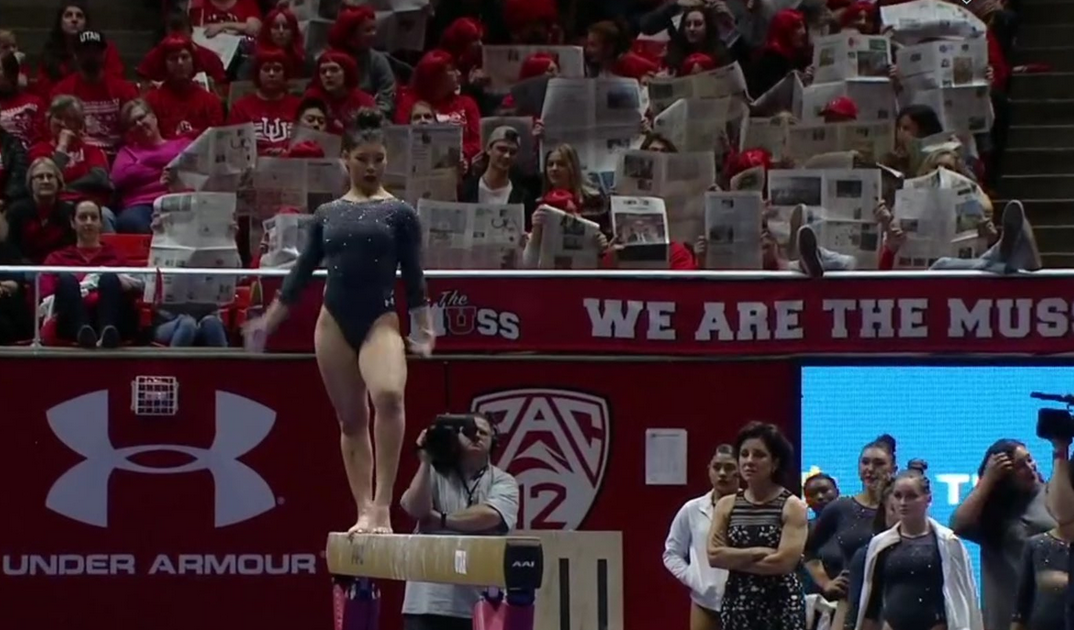 LISTEN HERE
NCAA NEWS
How to get your early release tickets for our live show at NCAAs.

A little something called the UCLA/Utah meet. We have many thoughts about how crazy the internets are being about MyKayla Skinner and newspapers. Also gymnastics isn't cotillion, and you all got overscored.  (10:22)

The Carol Address. An email about the sudden phenomenon called bias in judging (which just started now) was sent to the NCAA judges this week. We perform a dramatic reading.  (24:10)
By popular demand, the Oklahoma fish net leotard discussion (27:35)

Trinity Thomas went to national team verification directly after the Florida meet. We discuss what the elite program can do to encourage more athletes to do both college and elite at the same time. (29: 47)

A shout out to Sarah Finnegan's right leg for its unwavering support during these troubled times. 
Crack or correct: The trouble with DIII scoring, when this Y1.5 gets 9.600. Plus Natalie Wojcik's make-up 10 and the inconsistent application of "form forgiveness" in evaluating DTYs. (40:44)
MELBOURNE WORLD CUP (47:38)
Vanessa Ferrari returned with a new floor routine that has Jessica soaring to the heavens. Plus, missed opportunities presented by the small women's field, how China is cleaning up and coming for all your spots, Chris Remkes and the 6.9 D, our new favorite beam dreams, and a rundown of all the events, EVEN MEN'S. 
OLLY HOGBEN Interview (1:12:22). Jessica chatted with our favorite Olympic Channel maestro about how he went from drama teacher to gymnastics commentator extraordinaire, unintentional dismounts, puns, and other genius rules for being a kind commentator.  
THIS WEEKEND (1:36:47)
Clear your schedules! No lives please! This weekend you have American Cup, Jesolo, the Nastia Cup, and UCLA/Oklahoma. We discuss the announcement of the US rosters for Jesolo and Gymnix following national team camp. 
FURTHER READING
SUPPORT THE SHOW
Join Club Gym Nerd here.
Buy our awesome clothing and gifts here.
It's almost time for our annual NCAA CHAMPS LIVE SHOW in Fort Worth—after the NCAA finals on April 20th. Listen for instructions on getting tickets. 
RELATED EPISODES
MORE WAYS TO LISTEN