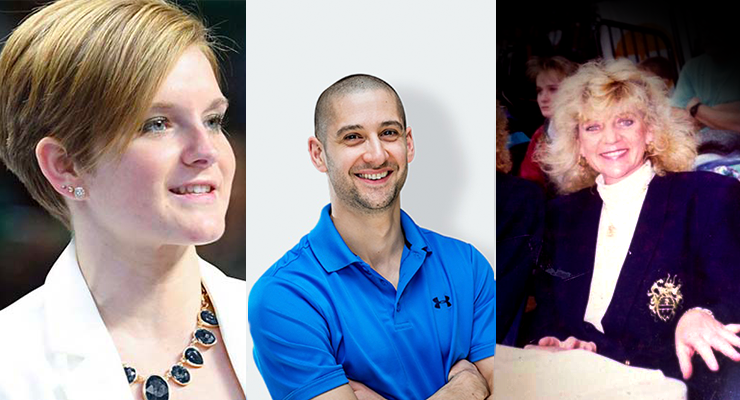 LISTEN HERE
LIVE SHOW TICKETS ON SALE NOW!
Remember: Tickets to our live show from NCAA nationals—the Flipping Four After Party presented by Tumbl Trak —are on sale. In addition to gifts for every attendee, t-shirts (while supplies last), and door prizes from our store, you can win a My Gym Judge session with Chellsie Memmel. Compliments of Precision Choreography. Get 'em while they're hot.
Regionals Preview (3:30)
NCAA Regional Championships begin this Thursday with the new play-in meets and end on Saturday, when the 8 teams advancing to nationals will be decided. Spencer gives the rundown of what to expect—while trying to fit in as many SYTYCD, Madonna, and Laura Linney references as possible. You know, gymnastics content.  Schedule here. 
Interviews Galore!
Sarah (of the Shire) Brown (8:12)
In her second season as head coach at Penn State, Sarah Brown joins us to talk about her time at GAGE, what it's really like there, and what happens if you're not turned out in the airport. Plus, the changes she tried to institute at Penn State after taking over at a program in turmoil, how transferring during her own college career informs her perspective on the athlete experience now, when we're going to see a four-element beam series in the Penn State lineup (spoiler: it's never), and whether Jessica is still allowed to call her Sarah of the Shire. 
Lieve Olivera (49:31)
Lieve Olivera was a Brevet judge from 1985 to 1996. She judged at world championships and world cups, has owned her own gym, was the media liaison at the 2000 Olympics, and has authored articles and given presentations on controversies in judging. So we obviously need to talk a lot about college gymnastics—the differences between college and international, how judges go about trying to reconcile their deductions with the need to rank routines, how best to improve college gymnastics judging, and the deductions she would have for an example routine. PLUS, behind the scenes stories about what happened in 2000 after the vault debacle and after Raducan was stripped of her medal.
Nick was a national coach for British Gymnastics who worked with everyone fro Ellie Downie to Amy Tinkler. He is now a consultant who has worked with 18 federations around the world, including Japan and the Netherlands (drink!). He emphasizes an athlete centered approach for longevity and high performance. Each year he shares his knowledge via GymCon which you've heard Jessica talk about one million times. Jessica asked him all of her burning technical, cultural and code questions.
FURTHER READING
SUPPORT THE SHOW
RELATED EPISODES
MORE WAYS TO LISTEN