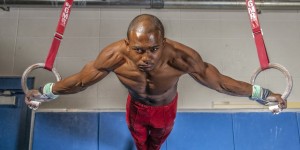 When John Orozco tore his ACL during the post-Olympic tour, some gymnastics fans thought that John wouldn't compete in 2013. But John proved them wrong. By the 2013 P&G Championships, he was back, and he earned a spot on the U.S. World team. At the 2013 World Championships in Antwerp, he won a bronze medal on parallel bars, and he hasn't slowed down since.
Earlier this year, John won the all-around at the Houston Invitational with an impressive score of 92.250, and after one day of competition at the Winter Cup, John is tied for second with Ohio State's Sean Melton. Both gymnasts totaled an 86.150 in the all-around–only 0.050 behind Marvin Kimble, the current leader.
Yesterday, Uncle Tim chatted with John about his performance at the Winter Cup, his new (possibly eponymous) skill on floor, his experience training with the Chinese gymnasts, and his preparation for the American Cup.
Uncle Tim: How do you think the first day of competition went for you?
John Orozco: "There were some good things and some terrible things. (Laughs.) I'm happy with my vault. I did a better vault than usual. But pommels was definitely a disappointment—and floor. But pommels was more of a disappointment because I have been doing that routine for a really long time now, and I think I was just focused on the wrong things. I was thinking about everyone watching me and expecting me to hit before I go to the American Cup. And then, on floor, I was trying a new skill—my own skill that I'm trying to get named after me. I just held back a little bit. I'm not sure if I'm going to go for it in finals or not. But everything else was all right. I wasn't as sharp as I usually am on all my skills. During finals, I have a lot to improve on, so that's what I'm looking forward to."
UT: Can you describe your new skill?
JO: "It's a Lou Yun with a half twist. So, it's kind of like a quarter side somi flip with a 3/4 spin out."
UT: How did that skill come about?
JO: "Well, I used to do the Lou Yun in my routine, and one day, I was in the gym and Vitaly [Marinitch] was kind of like, Maybe you should try it with a half and see if you can get it named after you. And I was like, All right. So, I did it with the half, and it was decent. So, I decided to pursue it and try to compete it one day and get my name in the Code of Points."
 UT: If you perform it at the American Cup, it would be named after you, correct?
"Yeah, yeah. I have to fix some form issues, but yeah."
UT: I interviewed you right before your trip to China with the U.S. National Team. How was that experience?
"It was fun. Training with the Chinese guys was pretty inspiring for me, which is tough to do. Usually, I'm not very impressed with a lot of things I see or witness […] It's the way the Chinese gymnasts train. They do so much. They do so many numbers and so many hard skills. When I look at them, I think that maybe I'm not training as hard as they are. Maybe I'm doing something wrong."
UT: Besides repetitions, what are some of the major differences between training in China vs. training in the United States?
JO: "It just seemed like there are no boundaries for them. I see them on vault, and they're doing handspring double pike halves and Kasamatsu triples. And I'm like, Geez, what are you guys chucking? And I'm still doing my double full that I've been doing for, like, 6 years. And that's what's motivating for me."
"That's something to remember. Usually, at this level, everyone's talented. Everyone's got skills. We're told that results just depend on who can save tenths here and who can be consistent. But then you forget that you can push the boundaries a little bit. I mean, look at Kenzo at the World Championships. Who was thinking about doing 3.5 punch double fulls? He was, and he did it. That kind of reminds you that gymnastics doesn't have any limits. I think that was the most motivating thing for me."
UT: Heading into the American Cup, how's your training going?
JO: "Besides a little lack of confidence from [day 1 of the Winter Cup], I think everything is going pretty well. I'm trying to get back to where I was a few years ago with my consistency. That's really what I want to get back: my consistency and my confidence."
UT: I know that you like music, so here's a fun question for you. If you could choose one song to be the soundtrack to your life, what would it be?
JO: "I feel like I'm obligated to say 'The Fighter' by the Gym Class Heroes, but besides that… Hmm, hold on, I have my iPod right here. Let's see what I recently downloaded. 'Ain't It Fun' by Paramore. I got 'Do What U Want' by Lady Gaga. (Laughs hard) I would not say that's the soundtrack to my life… Let's see here. 'Story of My Life' by One Direction. I don't know. That's a good question."
UT: You've been bombarded by little kids asking for autographs and photographs. That's one of the interesting things about this meet. You're competing, and the next generation of gymnasts is right there, watching you. Do you have any advice for the young gymnasts?
JO: "Just to have fun. Don't put too much pressure on yourself. Everybody is wanting to do well. You know, you fly all the way out here to Vegas, and you want to have a hit meet. But sometimes, things go wrong. But that doesn't mean you should give up. Just keep fighting. See where you're going to land no matter what."
The Winter Cup continues tonight, February 22, at 7:15 PST. USA Gymnastics will stream the meet live, and Uncle Tim will do quick hits on the GymCastic website.