Note to Android users – please try the Stitcher app for Android here or download the show here.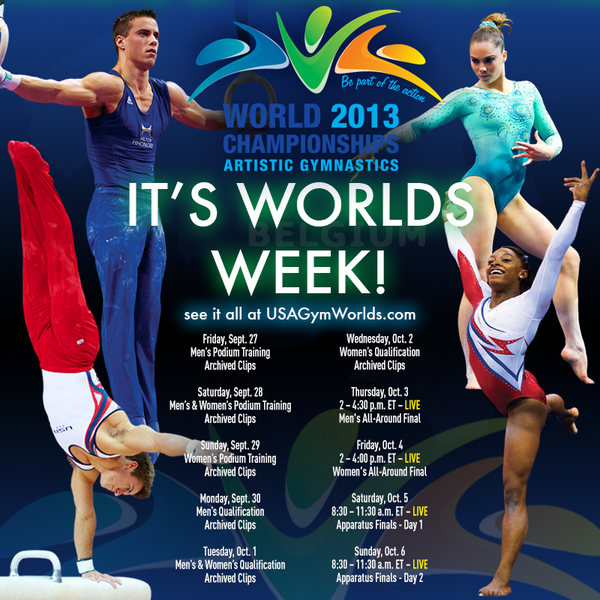 It's our birthday show! Last week, we turned one-year-old. To celebrate we hear from you. This week, we chat about FIG president, Bruno Grandi's latest suggestion to reduce team size to four and his assertion that teen athletes are the "great drama" of the sport, we pick our favorite routines from the Osijek Cup where Epke Zonderland tried to break the judge's pencils, Sanne Wevers manipulated the code into utter perfection, and Alberto Busnari rocked pommels at age 34.  Spanny reacts to the Junior International in Japan where Bailie Key, Catherine Lyons and Sae Miyagawa set the stage for Rio, Al Fong's (unsolicited?) response to Jess's question about the timing of team selection, and delivers the Gabby Douglas movie update and poses the question, will Travis Wall finally choreograph Gabby's floor routine, now that he has a direct connection to Miss Douglas? USAG's Scott Bregman stops by to give us the scoop on live World's coverage. Then it's time for our World's preview; our in-depth thoughts on the US World Team, the British team selection drama, injury updates, routines we are most excited for and those we least want to see, who the biggest surprise will be and our top strategy theories – will McKayla Maroney compete all-around?! Finally, we answer the age old question, what is the difference between code-whoring and genius routine construction.
Check back all week for our special World Championship mini-episodes and make sure to follow Blythe during World's. She will be there in person doing her usual fabulous quick hits and interviews: Gymnastics Examiner, Facebook, Twitter.
Related
Live coverage USAGymWorlds.com
Our Simone Biles interview
Our Kyla Ross interview
Our Jake Dalton interview
Our Sam Mikulak interview
Our Elizabeth Price interview
Uncle Tim's article Fact Checking Bruno Grandi: Is 18 Old?
Women's World Rankings as of September 23, 2013
Men's World Rankings as of September 23, 2013