What We're Talking About
The big story this week is Michigan State, ranked No. 14 coming into the weekend, defeating the No. 3-ranked University of Michigan. It was definitely an upset, but perhaps not a total shocker while considering how strong the Spartans have been competing under the tutelage of sixth-year head coach, Mike Rowe. The Spartans are coming off the highest finish in program history, finishing 9th in 2022—so it's not like we haven't noticed. If you need a refresher, close your eyes and you can hear Jessica squeal while describing the performance quality of Skyla Schulte.
You may be thinking? But are the Wolverines really as good as we think they are? Yes! They're still the only team in the nation to post a score above 198 this season (that was just a week ago); and if you go back to their 2021 championship, 8 of the ten athletes who raised the trophy that night were back on the floor Saturday competing. That should make all the other teams in the nation uncomfortable knowing this seasoned roster is still out there doing it.
So who is this Rowe guy and what's his secret? He's a Michigan State alumnus and in 1985 he was a member of the cheer squad; and after graduating he moved to New York City where he performed as a professional dancer from 1985-97. He was then an assistant coach for the University of Pittsburgh for 9 years before coming back home to Michigan St. This is all making sense now.
Where the Spartans finish this season is anyone's guess, but one thing's for certain—they're heading in the right direction. If only there was a successful precedent for a professional dancer turned gymnastics coach who had electrified the gymnastics world. Oh wait!
Feelings
We see you Ohio State.
We can retire "Calm, cool and collected."
Hey SEC camera crew… when Jordyn Wieber is being interviewed make sure she's in focus, not the crowd.
A rond de jambe on balance beam from Arkansas, thank you Cami Weaver.
Sunisa Lee is going to be an assassin on vault by the end of the season.
If you still don't understand how sport and politics/human rights are intertwined, be sure to read the ongoing series by Nancy Armor and Lindsay Schnell on how the overturning of Roe is affecting women athletes and sports.
Mike Rowe is brining it.
Andi Li is quietly tied for the top bars score in the country and the pedigree is not lost on us.
We're looking forward to this week's homework assignment: watching Bailey Libby's floor routine.
Asher Hong's Ri Se Gwang continues to impress.
---
Facts
Flipperland: Alabama's "board game"… Genius
Derrian's family… No artistry deductions.
Ellie Downie has retired.
39.525: The highest all-around score in Rutgers program history posted this week by Hannah Joyner.
Ball State is setting records. This week:

Record – 49.250 on vault
Record – 49.350 on beam
Record – 196.550 team

Last week, we wrote that Haleigh Bryant wasn't talked about enough. This week she made sure we did by posting the only perfect 10 in the nation.
Oregon State has a stick chainsaw.
The last time Trinity Thomas scored lower than a 9.95 on floor, Suni didn't have an Olympic medal.
Michigan State beat the University of Michigan for the first time since 2007, breaking a 32-meet win streak.
---
Award(s)
---
What's On the Socials?
https://twitter.com/IowaGymnastics/status/1617254144368336896?s=20&t=8qo6iJbJUG-yh2XLVcZMtg
https://twitter.com/SportsCenter/status/1616596814240616450?s=20&t=XbYsjM2E98HX8uQO1Y0Ymg
Asher Hong's vault (Ri Se Gwang) at RMO! pic.twitter.com/b1uIZSGyDL

— Kensley Behel (@kensleyanne) January 22, 2023
https://twitter.com/uclagymnastics/status/1616928547247120384?s=20&t=8qo6iJbJUG-yh2XLVcZMtg
https://twitter.com/yuhangyuan_/status/1616786792170262530?s=20&t=8qo6iJbJUG-yh2XLVcZMtg
---
Quotes
"As a woman, you are not responsible for how a man looks at you and objectifies you. That's not a woman's responsibility." ~ Olivia Dunne, Feminist
Responding to criticism that her content is to blame for the response of her fans.
♦
"If expression and self expression is something that we value as a right in this country, then we must be consistent when it doesn't fit what our own agenda might be. I don't think it sets us back."  ~ Jay Clark, Feminist Ally
Highlighting the inconvenient truth that freedom of expression needs to be free to  critics who suggest Olivia's content is setting feminism back.
"With a heavy heart and an array of emotions, today is the day I announce my retirement from gymnastics."  ~ Ellie Downie, Retired Gymnast
The first British woman to win the European all-around title announced her retirement along with the circumstances that brought her to this decision.
♦
"Knowing the tradition of that program, where they have been, where they have come from and what they have done in so many years–to know that we did that tonight is amazing."  ~ Mike Rowe, Former Professional Dancer
♦♦♦
---
College & Cocktails
Listen to this week's bonus episode: Arkansas at Auburn
Cocktail of the Week: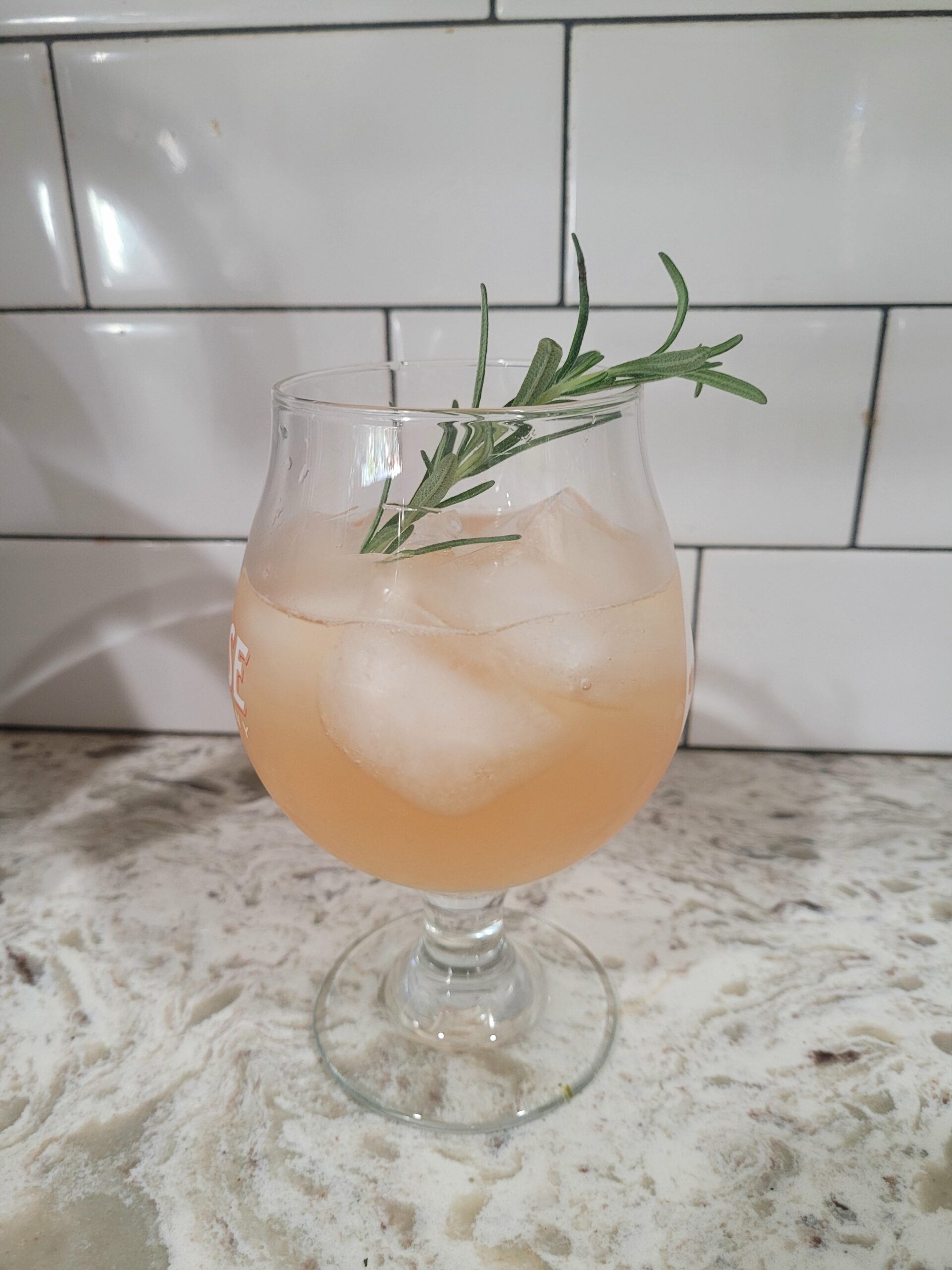 The Unintentional Dismount
One too many of these and you, too, can perform an unintentional dismount from something.

Boozy Version
2oz Reposado Tequila
1oz St George Spiced Pear Liqueur
1.5oz Pear Nectar
.5oz Lime Juice
1oz Cinnamon Clove Simple Syrup
Fresh Rosemary
Non-Alcoholic Version
3oz Pear Nectar
1.5oz Cinnamon Clove Simple Syrup
1oz Lime Juice
Fresh Rosemary
Soda Water
Meet Week Prep: Cinnamon Clove Simple Syrup
.5c (100g) Brown Sugar
.5c Boiling Water
2 Cinnamon Sticks
6-8 Whole Cloves
In a mason jar or other air-tight container, combine all ingredients. Wait until cool, secure the top, then stash in the fridge until next week's cocktail. Leave the spices in the syrup until you're ready to use it.
** Will keep up to 4 weeks in the fridge
Prep Your Glass:
On a safe surface (like a plate) light a small sprig of fresh rosemary on fire. Take your glass and place it upside down over the rosemary until the fire goes out and the glass fills up with smoke. Leave the glass upside down over the rosemary while you make your cocktail.
Make Your Drink:
Combine all ingredients (except soda water) in a shaker with ice; shake to chill. Double-strain into your prepped glass, top off with ice and soda water.
Stick the Landing:
Garnish with fresh sprig of Rosemary
**if you can't find the Pear Liqueur (or just don't want to buy it for one drink lol) increase the Pear Nectar to 2oz and the Simple Syrup to 1.25oz.
♦♦♦
What? You want even more? Join Club Gym Nerd and you get a bonus episode, College & Cocktails, every Friday after our meet of the week. Once the NCAA season is over you continue to get a weekly bonus episode every Friday afternoon. Plus you get access to all of our archives, exclusive content and more. Then we give the sober analysis on Monday (or Tuesday) after we've allowed the data to penetrate our feelings.
This column was composed and compiled by Steve Cooper, Editor, GymCastic; as performed by hosts Jessica O'Beirne and Spencer Barnes.
Prefer to get this delivered to your inbox? Sign up for the newsletter here.