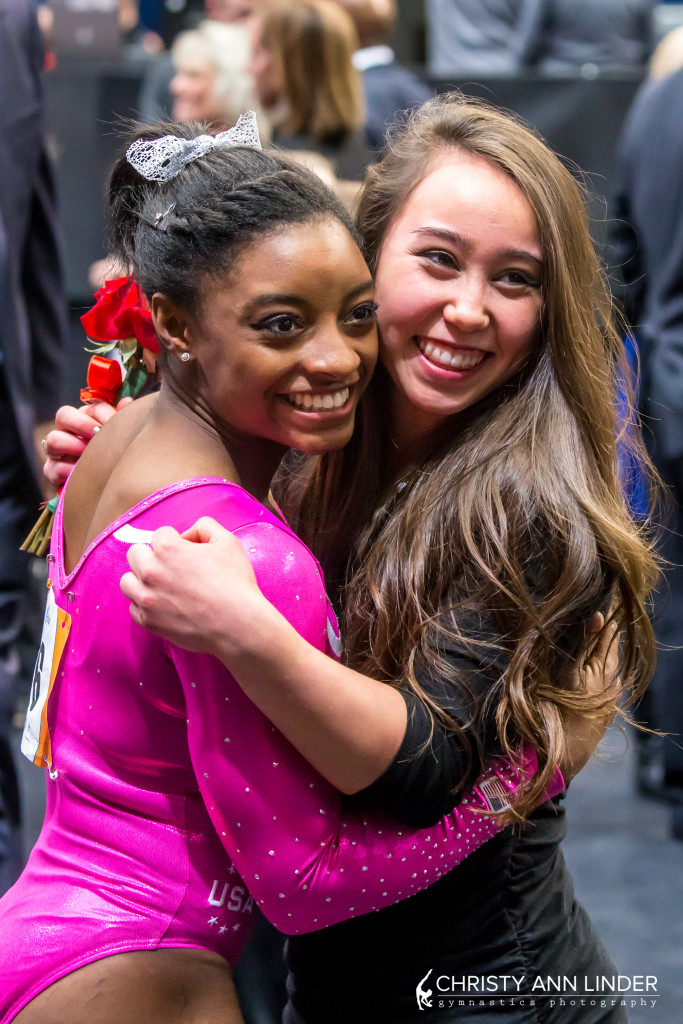 This week we are joined by very special guest and World Cup silver medalist, Mary-Anne Monkton of Australia. Uncle Tim, Evan and Jessica recap of the 2015 American Cup in Cowboy Stadium AKA Simone Biles new house:
Marta was on the Nastia Cup broadcast doing commentary again and it was fantastic!
Oleg gave Uncle Tim the best birthday present ever!
MyKayla Skinner crashed her Cheng in podium training and completely missed her hand. (see photo gallery link below).
Head Scratcher of the week: How does a gymnast get invited to a World Cup. Read all 16 pages of Rules here or this:

The top seven all-around placers at World Championships are invited. If that includes the host country already, the 8th placer is invited. If it doesn't include the host, the 8th spot is reserved for the host. The FIG Executive Committee can invited a 9th wildcard. If after inviting the top eight they don't have eight participants, they then invite placers nine through twelve from Worlds. If they still don't have eight, they then invite each federation in the order they finished in the team competition at World's (up to the eighth place team) to send a gymnast until they get eight. Then the wildcard gymnast is selected by FIG.

Do we think it's fair the way NBC characterizes Simone as unbeatable, as if the pressure doesn't compound exponentially the more she wins?
Debate our favorite moments and best saves of the meet: MyKayla Skinner on beam or perhaps Sam Mikulak on high bar.
We give our thoughts on leveraging the host country's music and cultural dances in floor routines.
We pretend we are Aimee Boorman and devise a strategy to keep Simone Biles happy, healthy and engaged.
We pretend to be Sam Mikulak and devise a plan for him to convert the consistency he had for his NCAA team to his elite career.
The High Bar tension controversy: are the men supposed to all use the same tension on the high bar? No, we are asking. We want to  know!
Nastia Liukin gets her first grade from us as a commentator.
Fashion: what did we think of the Nastia Cup leo, and could Nastia's Swarovski crystals on the nails work for the men
Friday the 13th of NCAA Gymnastics. Every meet had a terrifying crash. The worst of which was Shelby Hilton from University of Kentucky. We have an update on her and opine that perhaps a little angel named Kylie had something to do with that crash.
The Rage-o-Meter ; Trautwig needs to acknowledge that the majority of the gymnasts on the World Cup circuit are in their 20's and that's the new norm. And many women in their 20's make the US Olympic team and even win medals.

We launch a new campaign. Tweet to NBC #NoPolosForNastia


[tribulant_slideshow gallery_id="11″]
[tribulant_slideshow gallery_id="10″]
Ellie Black's balance beam landing positions. Unreal.