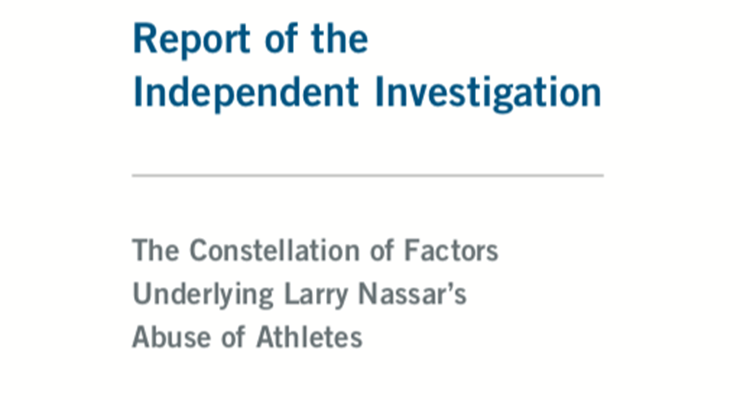 LISTEN HERE
INSPIRATION NEWS (1:58:00)
ROPES & GRAY (9:10:00)
The Ropes and Gray Investigation

released its report

What we learned about Scott Blackmun and Alan Ashley
Nassar's unsatisfactory score in 2012 and unpacking Martha's not wanting "the gymnasts to be with the boxers" comment
The FBI…what were you even doing?
Kathy Kelly and Renee Jamison were in charge of handling abuse reports…so nope
THEY KEPT THE RECORDS IN A BARN

What do we do with this information? What was the point? What do we need now?
GYMTERNET 2018 – A Year In Review (1:08:46)
The GymCastic Indictment Draft – As we review the events of the year that was, yell DRAFT every time you want to put someone (or something, or a concept) on your all-indictment fantasy list
BRING ON 2019 (1:37:07)
New seniors we're too excited about

(ITALY)

Giorgia Villa – Youth Olympic Games Champ –

Bars

Elisa Iorio –

Bars

 

D'Amato twins, Asia and Alice –

Asia Floor

Ksenia Klimenko (Russia) –

Bars

Qi Qi (China) –

Beam

Tang Xijing (China) – 4th AA at Youth Olympics –

Floor

Amelie Morgan (Great Britain) – 2nd AA at Youth Olympics –

Floor

Emma Slevin (Ireland) –

Bars

All the elites heading to college competition in 2019. Next time we meet, the college season will have started!  (1:43:25)

Marz Frazier and Norah Flatley (UCLA)

Trinity Thomas, Sydney Johnson-Scharpf, Leah Clapper (Florida)

Emily Gaskins (Alabama)

Alexis Vasquez (Denver , another Chow-baby in college!)

Olivia Trautman (Oklahoma)

Bailey Ferrer (LSU)

Molly Frack (Auburn)

Grace Quinn (Cal)

International Elites in the college:

Canada: Shallon Olsen (Alabama), Megan Roberts (Georgia), Madeline McLellan, Meaghan Ruttan (Washington), Meixi Semple (Iowa State)

Great Britain: Abi Solari (Cal), Phoebe Turner (Iowa State)

Spain: Ana Palacios (Iowa State)

Czech Republic: Anna-Maria Kanyai (Bowling Green), 2014 world

 

Study 

proves adult gymnastics is the foundation of youth 

: 

"People in their 70s who have been exercising regularly for decades seem to have put a brake on the aging process, maintaining the heart, lung and muscle fitness of healthy people at least 30 years younger… As for muscle health, the findings were even more significant… researchers were surprised to find the 75-year-old muscles of lifelong exercisers were about the same as the muscles of the 25-year-olds."
SUPPORT THE SHOW
Join Club Gym Nerd here.
Buy our awesome clothing and gifts here.
FURTHER READING
RELATED EPISODES
MORE WAYS TO LISTEN