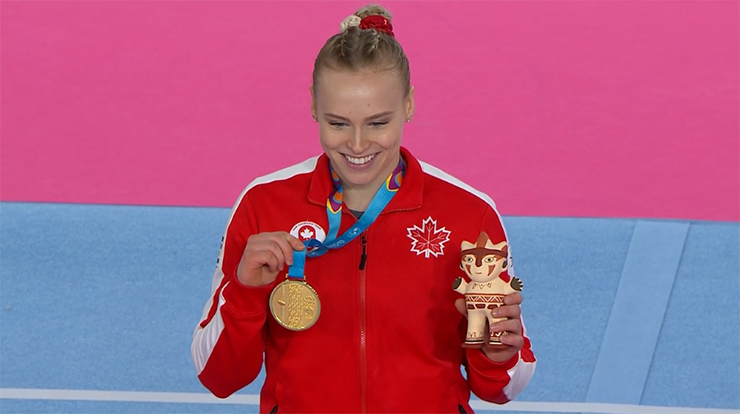 LISTEN HERE
GYMTERNET NEWS (7:46)
Valeri Liukin opened his mouth and garbage popped out. Stefane is here with a special editorial comment. 
Anna Li and Wu Jiani are being investigated by USA Gymnastics for alleged verbal and emotional abuse

Jessica has an Aurora Games update

What we learned from the Senate committee's damning report and the proposed legislation
The new Olympic Channel series All Around is out!!!!
Universal Gymnastics is closing
PAN AMERICAN GAMES (45:51)
Queen Ellie Black was unfazed by the nonsense that was this meet and won FIVE medals

Deconstructing the US performance – successful and full of drama? Sounds about right.

We discuss the team competition lineup, the AA final performances, Kara Eaker's emergence as a four-event gymnast, the Aleah Finnegan concussion situation, do some serious CSI: Code of Points Unit work, and break down the "Riley McCusker is inconsistent" narrative

Arthur Nory broke the high bar and got to go again—but should he have? Plus, an impressive competition for the Canadian men and a mixed bag for the US that nonetheless ended with three event medals
US NATIONALS PREVIEW (1:20:14)
It's the national championship, people! We have your schedule and watching assignments covered

Senior women

What do we expect from the Pan Am Games athletes? How does one reconcile the apparent allowance to take it easy at nationals with this intense race to make the worlds team and the national team?

It's a battle for second place, and we delve into the top contenders and what we need to see from them at nationals

The big questions: What was up with Leanne Wong not doing AA at Pan Ams, is Sunisa Lee ready to do four events, and how have Skinner and Chiles progressed since Classic?

Also a scrappy little nobody named Simone Biles

The race for the national team spots is going to be SERIOUS.

Senior men (1:45:18)

Kensley gives us an update on the US men if, for instance, perhaps, maybe you haven't been following them since worlds last year

Is Yul Moldauer repaired enough to reclaim his rightful second place position?

Does Colin Van Wicklen's vault make him a lock for worlds?

Is this the moment Allan Bower's consistency will pay off?

Donnell Whittenburg is returning to the AA. How will that work out?

Alec Yoder's Hugo Boss commercial. Also pommel horse.

The return of Eddie Penev

Junior women (2:05:01)

We should (actually!) have a tight race for the title in the junior women. Spencer breaks down the top six contenders and what each has going for her.
SO YOU THINK YOU CAN DUTCH
Announcing the return of the So You Think You Can Dutch contest (with PRIZES!) at nationals, hosted by

Like a Champ! and Precision Choreo & Camps. 

When: August 10, 2019
Where: Percheron Hotel Rooftop, 2101 Central Street, 4:00-5:30 

Get the opportunity to hang out with Alicia Sacramone, Jason Gatson, and more of the "Like a Champ!" and Precision Choreo & Camps crew in a casual setting. This is a rare opportunity to chat, joke, high five, and let your Sac-flag fly.  

ALSO!!!!!! There is an online contest to win VIP seating at this meetup as well as FOUR TICKETS TO SENIOR WAG FINALS!!

Post a pic of your most creative arabesque and tag @likeachampcamps and @precisionchoreo with the hashtag: #precisionposetix. The winner will be announced at the meetup!

5:15 pm  Individual and Team Registration for "So You Think You Can Dutch!" We will only be accepting the first 20 registrants!
5:30pm Nicole Langevin from Precision will be leading the WORLD FAMOUS Precision Warm Up (with LIVE video) so learn it because it will be recorded live!

The best "Warm-Uppers" will receive actual "Like a Champ!" Medals that are reserved for standout athletes at Like a Champ! camps!

5:45 pm SYTYCD Competition Begins!!!!
6:15 pm Award Ceremony

We all go watch senior men! HOORAY!
SUPPORT THE SHOW
RELATED EPISODES
MORE WAYS TO LISTEN