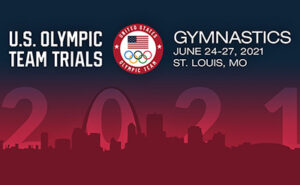 LISTEN

WATCH
Club Gym Nerd members can watch the podcast being recorded and see video clips of the gymnastics while we discuss.

Please login to your Club Gym Nerd account to listen and/or watch this episode. Not a member? Join here.
OLYMPIC TRIALS PREVIEW
The Favorites

Simone Biles and the biggest question we have about her heading into trials
Sunisa Lee and Jordan Chiles

Who gets the second automatic team spot?
What does each need to do to confirm her presumed spot on the team?

Jade Carey

She "has every intention" of taking her individual spot. So, good. Right?

The Contenders

From Wong to McCusker to McCallum to DiCello to Skinner and more, we make the Olympic team case for (and against—Spencer's part) every single athlete heading into Olympic Trials
We grapple with questions like, can Leanne Wong hit consistently enough to get herself on the team? Would you feel comfortable putting Riley McCusker on the same team as Sunisa Lee? Can Grace McCallum return to her peak level in time?

Men's Preview

Kensley brings the TWIST with her picks for the two most likely men to get automatic spots on the Olympic team
Is there any denying the top 3 favorites?
What does Shane Wiskus have to do to get himself on the team?
Is this finally the time that Allan Bower breaks his alternate streak?
Won't somebody please think of Akash Modi????
Favorites for the +1 spot, including Stephen Nedoroscik, Alec Yoder, Eddie Penev, and Alex Diab, and why that race is the one we're most excited to watch

MEET UP AT TRIALS: 

Where: https://www.360-stl.com/ top of the Hilton .
When: Saturday 26th (opens at 4pm) head over after MAG night two. Jessica will be there by 6-ish she hopes.
JOIN CLUB GYM NERD

RELATED EPISODES
MORE WAYS TO LISTEN