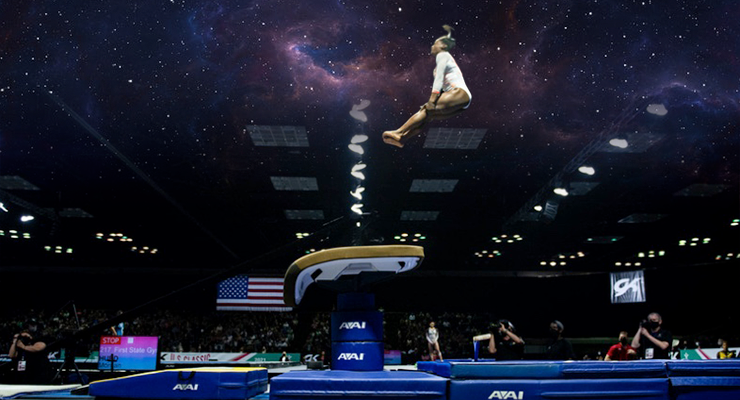 LISTEN
WATCH
Club Gym Nerd members can watch the podcast being recorded and see video clips of the gymnastics while we discuss.Please login to your Club Gym Nerd account to listen and/or watch this episode. Not a member? Join here.

US CLASSIC
Simone Biles officially debuted the Yurchenko double pike. We discuss how awesome it is, and Spencer has 84 things to say about the D score.

What Tom Forster, US High Performance Coordinator, said when Jessica asked if USAG would fight the low D score given to Simone's vault.
Simone gave credit to both of her coaching teams. She's been doing the Yurchenko double pike for over ten years (see our interview in 2013), first with Aimee Boorman and now competing it with Cecile and Laurent Landi.

Jordan Chiles went 57+ again. Is she an Olympic lock?
Can anyone stop the reliability of bars champion Kayla DiCello?
OUTSPOKEN GROWN ASS WOMEN ADULTS – Simone, Morgan Hurd and MyKayla Skinner do not hold back in interviews

"The way Marta did things, it was kinda brutal and it didn't need to be that way. With Tom and the rest of the team, it's a growing experience, but the changes have been really good. Tom is so supportive. It's so weird having a relationship with a national coach." – MyKayla Skinner
"I don't think I'd be able to do elite gymnastics now if Marta was here. In some ways it's been a lot nicer not having her around. With consistency, though, she was good at making us hit under pressure. Since Simone and I have that experience, we can help the younger generation." – MyKayla Skinner
On her activism as a world champion regularly demonstrating at Black Lives Matter protests and anti-asian hate rallies,  "I have to give credit to the brave survivors who paved the way and opened the floor for me to use my voice. These are much bigger than gymnastics. If gymnastics disappeared tomorrow, these issues would still be there. I'm a person first, and a gymnast second." – Morgan Hurd ,who also added when speaking about losing followers on social media because of her opinions, "I don't need people who don't think human rights are a given to be supporting me."

Chellsie Memmel competed! We're very excited, and even more excited to see her at nationals.
Riley McCusker's injury — what happened there?
Laure Hernandez eponymous bars skill news
Gymnasts who exceeded expectations, like Grace McCallum, Morgan Hurd, and Emma Malabuyo
The GAGE report
"It's Just Classic," starring Sunisa Lee and Konnor McClain
Jessica on Shilese Jones and Emily Lee
Best moments from the junior competition
OLYMPIC NEWS
The British men's team has been named, and not everyone is happy about it.
Becky Downie competed in her rescheduled Olympic trial, and as far as we're concerned, she should be on the British team.
PLUS
Japan vaccination news, a USAG mental health panel, and this year's first edition of Four Year Fails starring The New York Times.
JOIN CLUB GYM NERD

RELATED EPISODES
MORE WAYS TO LISTEN