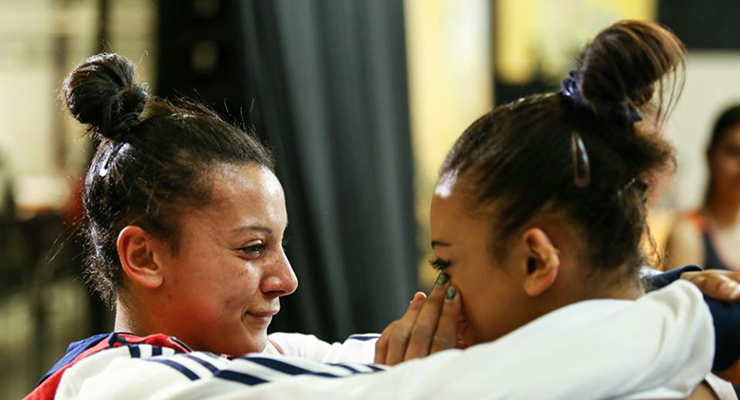 This episode originally aired in April 2015. Current Australian national team member and World Cup medalist, Mary-Anne "Mez" Monckton joins Emma to give us all the details on the 2015 European Championships in Montpellier, France:
Preliminary Problems:

Before the meet even started Kristina Pravdina (AZB) and Anna Pavlova (AZB), along with Alla  Sosnitkaya (RUS) were all out with injuries.
Epke fell on high bar and failed to make finals. What world is this?!

Women's All-Around:

Historic Firsts: Giulia Steingruber all-around gold was the first ever win for Switzerland, Ellie Downie's bronze was the first ever medal for Great Britain, Poland's fifth place all-around for Marta Pihan-Kulesza was the highest ever finish for Poland–from a 27 year-old!
Can the Russian women challenge the US now that they have two Amanar's in the lineup?

Men's All-Around

Sam Oldham returned after his awful ankle injury at Commonwealth Games.
The Oleg Verniaiev (UKR) vs. Oleg Stepko (AZE, formerly UKR) show down.
David Belyavskiy (RUS) and Verniaiev showed the world why sports and peace go hand in hand.

Event Finals

Rayderley Zapata (ESP) was allowed to repeat his floor routine after a timing error.
Maria Paseka (RUS) flew in last minute and won gold where difficulty won over execution.
The bars nail biter coming down to two-tenths for Daria Spiridonova (RUS) where perfect form came in third from Sanne Wevers (NED).
Champion,  Eleftherios Petrounias (GRC) actually made Emma and Mez want to watch Rings, RINGS!
Andreea Munteanu (ROU) won beam, but Vasiliki Millousi (GRE) stole our hearts and broke them again when she fell at the very very end of her routines.
Claire Martin (FRA) brought back some well deserved glory to French gymnastics after a long drought.
Marijo Moznik (CRO) vs. Sam Oldham (GBR) high bar debate, justified or not?

Fragapan's ridiculous, unbelievable, not pretty but amazing save on beam – video.
We reanact Carlotta Ferlito's tweet as she, once again, blames everyone but herself for not making beam finals.