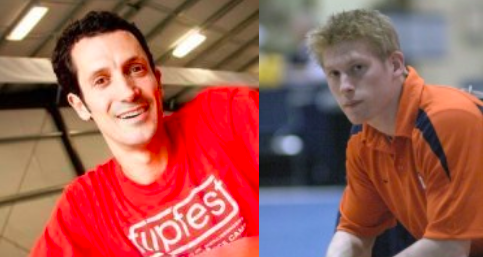 Today we chat about the 2015 FIG Rules release with two greats. Justin Spring, Olympic silver medalist and head coach of the 2012 NCAA Champion men's gymnastics team at the University of Illinois; and  John Roethlisberger. John is a three-time Olympian, sports commentator and Flip-Fest camp owner. We discuss:
8 skill max rule, aimed at ending Kohei's domination?
The escalation of the vault balking rule
A men's answer to the flamingo rule- the scale is back.
Changes for rhythmic gymnastics could benefit artistic.
And of course Jessica argues with them about MAG's ugly stag leaps.
Catch both of our guests next week at Mens' NCAA Championships, Thursday April.10th through Sunday, April 12th at University of Michigan. Roethlisberger will be commentating live on the Big 10 Network and Justin's Fighting Illini will be competing. Plus, Jordyn Weiber will make a special appearance at the meet. Check out the details here and check the Big 10 Network for local listings here.
Make sure to listen all the way to the very end of the episode to confirm that yes, this entire episode was in fact, an elaborate April Fool's joke.

Justin Spring on Twitter.
University of Illinois Men's Gymnastics website, Instagram, Twitter, YouTube.
2014 Illinois Boy's Gymnastics camp.
John Roethlisberger on Twitter. Flip Fest camp.