[et_pb_section fb_built="1″ admin_label="section" _builder_version="3.22″][et_pb_row admin_label="row" _builder_version="3.25″ background_size="initial" background_position="top_left" background_repeat="repeat"][et_pb_column type="4_4″ _builder_version="3.25″ custom_padding="|||" custom_padding__hover="|||"][et_pb_text admin_label="Text" _builder_version="3.27.4″ background_size="initial" background_position="top_left" background_repeat="repeat"]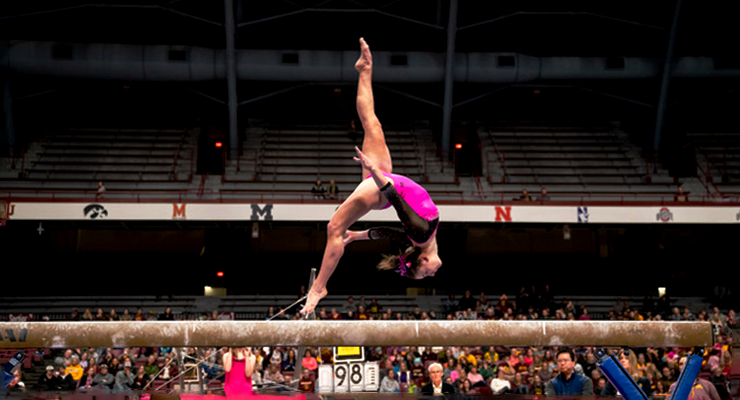 LISTEN

WATCH
Club Gym Nerd members can watch the podcast being recorded and see video clips of the gymnastics while we discuss.Please login to your Club Gym Nerd account to listen and/or watch this episode. Not a member? Join here.

HEADLINES

There's a massive conflict of interest in the USAG bankruptcy case. Because of course there is. And the Daniels Report didn't even interview the Karolyis. Sigh.
The FIG has added clarifications to the Olympic qualification documents. Tl;dr Jade Carey's Olympic spot is now extra definitely definite.
The athletes are writing a STRONGLY WORDED LETTER to USAG urging a change of equipment for championships and trials.
NCAA NEWS
Spencer tries to run through all the scoring records from this weekend without having a heart attack. Cal and Michigan got their first-ever 198s and Cal tied the all-time NCAA bars record.
Oklahoma and Florida are now tied for first place and things might start getting exciting.
People who are correct. Like Haleigh Bryant and Lexy Ramler and Emi Watterson.
We need to have an honest conversation about exhibition routines.
GYMTERNET NEWS
Update on the men's national team drama from last week and who ended up missing out.
RUSSIAN CHAMPIONSHIPS. This week.
The retirements of Daria Spiridonova, Oliver Hegi, and Erika Fasana.
The gymternet controversy over Nina's Nabieva 1/2.
THE POSTS
JOIN CLUB GYM NERD
RELATED EPISODES
THE FLIGHT SERIES
MORE WAYS TO LISTEN
[/et_pb_text][et_pb_comments _builder_version="4.4.1″][/et_pb_comments][/et_pb_column][/et_pb_row][/et_pb_section][et_pb_section fb_built="1″ _builder_version="4.4.1″][et_pb_row _builder_version="4.4.1″][et_pb_column type="4_4″ _builder_version="4.4.1″][/et_pb_column][/et_pb_row][/et_pb_section]