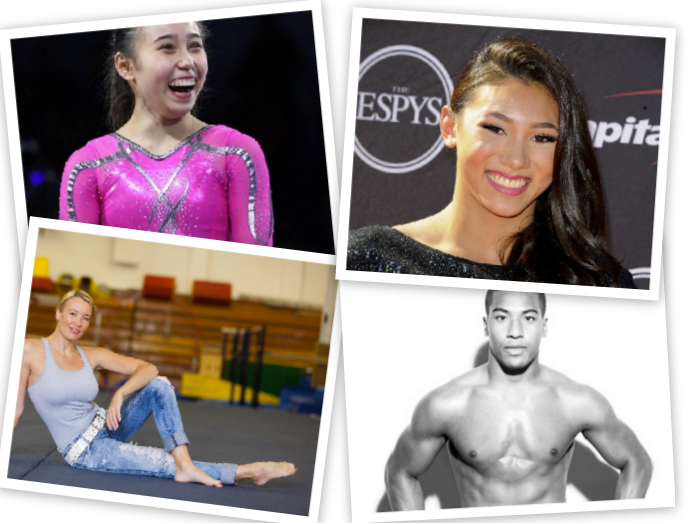 2013 was a great year for GymCastic episodes. We had several months of record-breaking traffic and scintillating conversation. Over the past 12 months, we have enjoyed reading your comments on our site, your e-mails, your tweets, and your Facebook posts. We love you, our gym nerds, as much as we love Jake Dalton's toe point. That's saying a lot.
Ring in the new year by catching up on any of these great episodes you missed. We look forward to bringing you new favorites in 2014.
6. The First-Ever Panel on LGBT Issues in Gymnastics
What's it like to be a gay gymnast in the United States? We asked our panelists, and their remarks sparked quite the gymternet conversation.
Two words: Svetlana Boginskaya.
Need we say more?
4. Kyla Ross
Before Kyla competed at the World Championships, we had the opportunity to chat with the gymternet favorite and her mother. We're confident that Kyla Ross's lipstick choice, as discussed in this interview, helped her win the Longines Prize for Elegance.
When it comes to gymnastics in the United States, Larry Nassar has seen it all. Our listeners appreciated Dr. Nassar's candidness, his behind-the-scenes details, and his love for the 2000 U.S. Olympic team, whose road to an Olympic bronze was bumpy–to say the least.
2. Justen Millerbernd, Tumbling, and Kalon Ludvigson
In August, Kalon Ludvigson suffered a terrible spinal injury. At the time, little was said about the accident, so we invited Justen Millerbernd, Kalon's coach and husband, on the show to update the gymnastics community on Kalon's condition.
Update: Since this episode aired in September, Kalon's progress has been remarkable. He now uses a manual wheelchair with power assisted wheels, and on December 13, he left Craig Hospital in Colorado. He was able to spend Christmas at home with his family in Idaho.
Thanks to all those who donated to Kalon's recovery fund. So far, Kalon's family has raised more than $75,000.
1. Katelyn Ohashi Clears the Air
After tweeting about her frustration with the gymnastics rumor mill, Katelyn Ohashi came on the show and set the record straight. By far, this was our most popular interview during 2013.
Statistically, those were our most popular episodes, but we'd like to know which episodes you enjoyed the most. Leave a comment below and let us know!