[et_pb_section fb_built="1″ admin_label="section" _builder_version="3.22″][et_pb_row admin_label="row" _builder_version="3.25″ background_size="initial" background_position="top_left" background_repeat="repeat"][et_pb_column type="4_4″ _builder_version="3.25″ custom_padding="|||" custom_padding__hover="|||"][et_pb_text admin_label="Text" _builder_version="3.27.4″ background_size="initial" background_position="top_left" background_repeat="repeat"]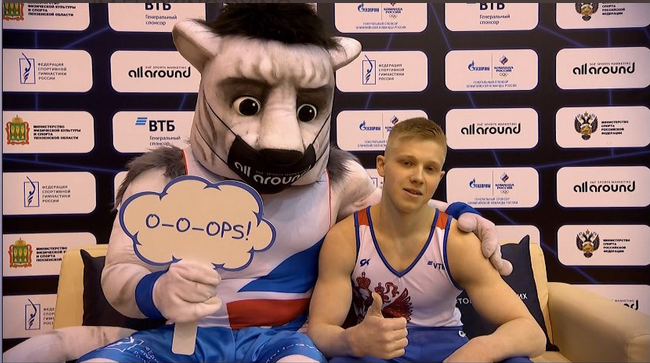 LISTEN

WATCH
Club Gym Nerd members can watch the podcast being recorded and see video clips of the gymnastics while we discuss.Please login to your Club Gym Nerd account to listen and/or watch this episode. Not a member? Join here.

GYMNASTICS INTERNATIONAL
Welcome to Gymnastics International! On this show, we take a deep dive into the latest competitions from around the world, covering them with the depth and detail they truly deserve. This week: 2021 Russian Championships!
Celebrating the Big 3
The Challengers

Yana Vorona – Split jump to immediate front tuck on beam. Beam Routine
Elena Gerasimova – Hit beam every time despite being RUSSIAN. Beam routine
Lilia Akhaimova – How will her injury influence her Olympic status?
Anastasia Iliankova – Is she the last bars specialist standing?

Sadness and Icons

Maria Kharenkova suffered an Achilles injury on floor
Elena Eremina with a triumphant 9th in the AA
Daria Spiridonova retirement mural
The mascots were back. We have a lot to say
More classic wolf turn disasters

The Men

Alexander Kartsev won the all-around – where does he fit in the Olympic picture and who does Jessica controversially think he looks like?
Nagornyy strep throated all over everyone
THE POSTS
JOIN CLUB GYM NERD
PAST EPISODES
THE FLIGHT SERIES
MORE WAYS TO LISTEN
[/et_pb_text][et_pb_comments _builder_version="4.4.1″][/et_pb_comments][/et_pb_column][/et_pb_row][/et_pb_section][et_pb_section fb_built="1″ _builder_version="4.4.1″][et_pb_row _builder_version="4.4.1″][et_pb_column type="4_4″ _builder_version="4.4.1″][/et_pb_column][/et_pb_row][/et_pb_section]