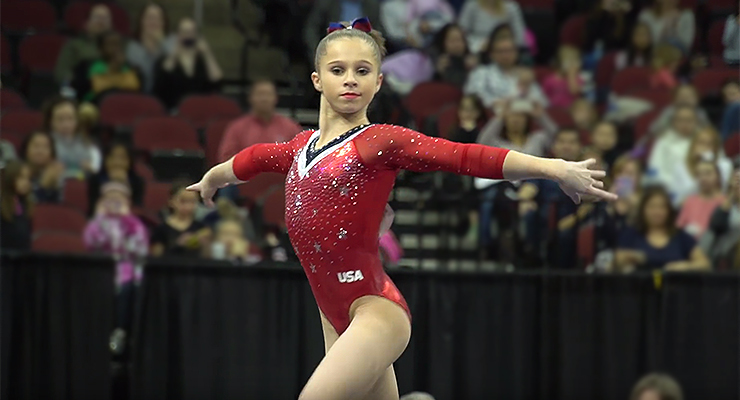 LISTEN HERE
MEET NEWS
It's P&G Championships this week, and we're joined by two-time Olympic medalist, two time World medalist, high bar ninja Jon Horton for our very special national championship preview episode.
How to watch

Live podium training – Wednesday, August 16 – USAG Youtube
Junior webcasts, starring Jon Horton, Sam Peszek, and Jordyn Wieber – USAG Youtube

August 17 – Junior men day 1 – 4:00 ET/1:00 PT
August 18 – Junior women day 1 – 4:00 ET/1:00 PT
August 19 – Junior men say 2 – 3:00 ET/12:00 PT
August 20 – Junior women day 2 – 2:00 ET/11:00 PT

Senior TV coverage

August 17 – Senior men day 1 – 10:30 ET/7:00 PT – Olympic Channel
August 18 – Senior women day 1 – 11:00 ET/8:00 PT – NBCSN
August 19 – Senior men day 2 – 9:00 ET/6:00 PT – NBCSN
August 20 – Senior women day 2 – 7:00 ET/4:00 PT – NBC

Senior men (9:00)

The changing of the guard in US men's gymnastics
Why Jon ultimately decided to announce his retirement
Yul Moldauer is bringing pretty back and fighting with Akash Modi for the title of best man
Why the Olympic experience made Alex Naddour the best he's ever been
Eddie Penev's magical floor and insane acrobatics
Donnell Whittenburg is half CGI and breaks all the rules on rings
Darkhorse Allan Bower who might surprise everyone
Is the US better on pommel horse than high bar now? WHAT????
What the selection committee values most in choosing a worlds team

Junior women (28:16)

Can Maile O'Keefe and Adeline Kenlin challenge Emma Malabuyo? The scores say yes.
Is Gabby Perea going to win bars without a dismount because of awesome again?
Difficulty brigade

Is Jay Jay Marshall going to hit all her insane acrobatics and challenge for the top floor D in the world?
Will Adeline Kenlin show her Podkopayeva?
Will Sunisa Lee get her Nabieva?

Leanne Wong is doing a couple JO routines and still beating all the people because of execution

Senior women (36:00)

Ragan Smith has brought a sack of upgrades this summer. Is the title hers to lose?
Battle Royale: Riley McCusker and Morgan Hurd for the second all-around spot
Is Ashton Locklear still the queen of bars?
Can Jade Carey do it every meet?
Will Marz Frazier show us her new Amanar?
Did everyone get the memo about floor leaps?
GYMTERNET NEWS (46:07)
Kristen Smyth has "stepped down" as Stanford's head coach. Jessica brings the inside scoop, and Jon tells us what qualities make for a successful college gymnastics coach versus club coach
Ellie Downie is going to miss worlds, so worlds is canceled. Sorry. 
Thais Fidelis of back handspring + Arabian fame on beam is the new Brazilian champion

The case against USAG, MSU, Geddarts, etc. over Nassar abuse has been sent to arbitration. GOOD NEWS! It means the case should settle and victims won't have to tesitfy.

Brooklyn Moors is the Pan Am floor champion, and Jon discusses what's so difficult about front tumbling, half out skills (spoiler alert: it's everything about them).
The Russian worlds team has kind of, sort of been named, and a certain Olympian isn't on it.
Training videos galore!
FEEDBACK (1:10:35)
We get to your emails about
Crying in gymnastics and Jon's perfect response
Elfi's completely different personality when she's commentating in Canada
Conflicts of interest in judging and the messed-up system of Brevet judging
More advice about Congress, including the MUST-SEE speakers who dish all the dish
Clarifications about gymnastics drag queens, the Swedish worlds spot, Rayderley Zapata's floor, the MO salto, the Rio leos, and something Jessica forgot to be outraged about from 1996 event finals.
Plus, Jon tells us how he feels about his gay teammates.
BEER WITH BETTY
Beer With Betty: The Greatest Scavenger Hunt in the Galaxy STARTS THURSDAY!
Here are the 10 tasks you must complete. 

Submit video OR photo by tagging

BOTH @gymcastic and @precisionchoreo with hashtag #beerwithbetty on Twitter or Instagram by noon on Saturday August 19th.
Man Wipe

Pose in front and of P&G Championships sign. The more ridiculous your interpretation of poses on the sign the better!

A coach watching bars (or any routine) with their head tilted to the side

Someone casually waiting in line in wolf turn position

Pretend to mount a piece of non-gymnastics equipment mouthing "I got this" a la Laurie Hernandez

Find mustached person (doesn't have to be real) and recreate Bela carrying Kerri. (Bonus! Precision will choreograph a free beam routine for anyone who does this with Steve Nunno playing the part of Bela)

5 folks strumming tummy guitar a la Boguinskaya's 1989 FX routine

A leotard that needs a seizure warning

Simone's ending pose amongst a group of unsuspecting people

Gather 10+ people to do their best gymnastics salute (bonus for college style)
Help us out by numbering your entries. You must tag both @gymcastic AND @precisionchoreo
STARTS: 8am on Thursday, August 17 and will end at 12pm on Saturday, August 19.

The winner will meet with THE Betty Okino at 3pm in Anaheim on August 19th!

Remember: You don't have to do them in order! As long as they are completed between Thursday, August 17 and Saturday at NOON.

There are daily awards so be creative! Anyone or anything can be in the photos. It doesn't have to be you.

Make sure you are following us and Precision so we can message you with details of the TOP SECRET LOCATION right after the deadline of noon on Saturday so you can be there right on time to meet Betty at 3pm in Anaheim.
SUPPORT THE SHOW
Join Club Gym Nerd here with brand new membership tiers, commission your own episode, or commission your own segment.
Buy some of our awesome merchandise here.
RELATED EPISODES
MORE WAYS TO LISTEN