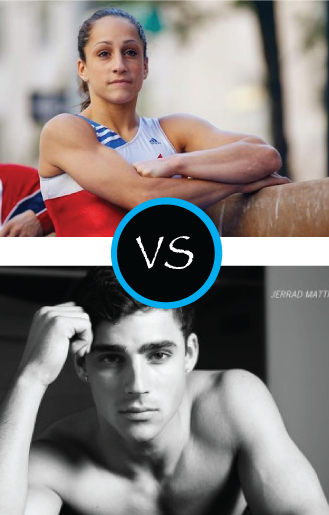 During episode 58, we covered a lot of topics, and as always, we wanted to know what you thought. Perhaps the most pressing question is, Who would win in an arm wrestling match? Jordyn Wieber or Ryan Wieber? As Jessica pointed out, Jordyn "looks like she could walk through a crowd and crush people's skulls with her hands." Jess even suggested that Ryan might be a little jealous of his sister's buffness. What do you think?
Also, in case you have not seen Paul Ruggeri's uneven bar routine, here's a link to the video.
And Jordyn Wieber CRUSHES her brother. (Our listeners aren't biased–not at all!)
Wow! Make It or Break It wasn't totally crazy. We guess that gymnastics fans like to see guys try the women's events. (Or maybe Paul is just the exception to the rule?)
Oo! This one is too close to call!
USAG and FIG, we hope that you're reading this!